Graham Reid | | 2 min read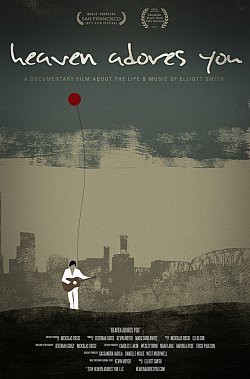 The only book I've read about singer-songwriter Elliott Smith – Benjamin Nugent's Elliott Smith and the Big Nothing -- had me conclude, Alan Partridge-like, "What a shit!"
Smith – who died at 34 in odd circumstances in October 2003 – seemed needy, emotionally manipulative (how would you respond to an e-mail which read "Please don't be mad at me if I do something to myself"?) and quite dishonest about his public persona.
That persona was admittedly small until he appeared at the Oscars singing Miss Misery, a solo figure in a white suit, the uncomfortable indie-rock guy amidst the glitz'n'glitter.
He was there because the song had been nominated as best song after it appeared in Gus Van Sant's film Good Will Hunting.
This doco – which appears in the forthcoming Documentary Screen Edge Festival (see below) -- opens with a retiring, bemused and seemingly uneasy Smith talking about that moment and others comment how out of place he seemed to feel, and how horrible it was for him to have to answer the same inane questions from ill-prepared journalists day after day about that appearance and presuming he was some overnight sensation (he had six albums behind him, three with the band Heatmiser) discovered by Van Sant.
Poor sensitive Elliott, is the subtext.
Yet later we learn Smith surreptitiously brought Van Sant in to hear the song for the soundtrack, but they pretended it was written for the film so it might get nominated. And it did.
After nailing down that Oscar moment this well constructed film then flips forward to his death (stabbed in chest, but by himself?) and how people who knew him responded with such shock, then folds back – via voice-over radio interviews – to his childhood through reminiscences, family photos
As with Cobain: Montage of Heck, we see a lovely little boy morph into a formidable rock musician (some distance removed from his acoustic style), although crucially although seemingly quiet he didn't seem unhappy..
The early scene in Portland where he started to make his name is well portrayed through period footage and posters, Heatmiser and Smith's home tapes, and a remarkable number of photos. The gaps are filled by some beautifully shot footage of industrial Portland, sidestreets, old houses and streetlight evenings
His turn towards acoustic music was clearly something to witness by the moving, still wide-eyed accounts from those who saw him quiet a rock audience room with his finger picking and hushed, introspective lyrics.
Yet rock writers – used to the post-grunge noise and rock scene – didn't come around to it.
Portland loved him however: 70 percent of his solo record sales in the first year came from that area. Other artists discovered him and their support won over the music media.
He moved to New York in the late Nineties (after Heatmiser broke up and split with his girlfriend), his lyrics became more observational (for example junkies, but he wasn't one), he drank more . . .
But despite his seeming discomfort with the Oscar nomination (he walked down the red carpet behind Madonna so went unnoticed) soon after he was off the small Kill Rock Stars label and signed to Dreamworks, the album XO took off, and a reluctant(ish) star was born. he enjoyed the subsequent touring, he became the hip name in alt.LA, the Figure 8 album followed, he became a prolific songwriter, he became "unwell" . . .
By early 2002 people spoke of things getting dark, him becoming mean, his live performances suffered. "It was the beginning of the end" says fellow performer Jon Brion.
Former pals tried to re-establish the friendship but it wasn't happening. The person they loved wasn't there . . .
The arc of this film follows Smith's slow rise and that rapid descent in what were his final 18 months, but quite why he went into such a decline is never clear.
Too fragile for this world? Hardly.
Too self-centred? Perhaps.
Because he was, as I thought, a shit? Probably not quite as much as he was painted in that biography.
Heaven Adores You is a fascinating film about a complex man and unique artist whose durable music touched many hearts . . . but who remains elusive even after these 100 minutes.
Documentary Screen Edge Festival
Q Theatre, Auckland May 20 - June 1
The Roxy, Mirimar, Wellington, June 3 - 14
For details of other films in the festival see here