Graham Reid | | 3 min read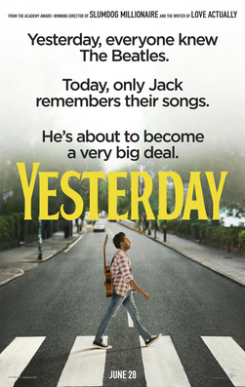 Because the Beatles' career, music and personal lives have been deconstructed in detail, analysed in similar depth and held up to the light for more than half a century, it is almost inevitable they would provide perfect material for fiction or dramatisation.
Think of the Beatles' films made without them: Nowhere Boy about the teenage John Lennon, Backbeat about their Hamburg years, The Hours and the Times about Lennon and manager Brian Epstein in Spain just before Beatlemania broke, the stage show and film Beatlemania . . .
And so it goes, the Spanish film Living is Easy with Eyes Closed which is nominally about Lennon in Spain during the filming of How I Won the War, and right on through dramatizations of Lennon and McCartney meeting up in the Dakota (Two of Us), Lennon's murder (multiple versions) and on to Lennon Naked, Snodgrass with a middle-aged and dole-living Lennon bitter about having quit the band just before they could have been big, bigger even than the Hollies, and . . .
But what about a world where the Beatles didn't exist, or at least that no one could remember them.
That's the premise behind this cute, sweet, sometimes very dry and funny British film by the hit-writer Richard Curtis (Four Weddings and a Funeral, Notting Hill, Bridget Jones' Diary, Love Actually etc) and Jack Barth, and beautifully shot by Danny Boyle (Trainspotting, Slumdog Millionaire etc).
These are powerhouse figures in British film and in Curtis' case he errs towards the feel-good in which British eccentricities are often held up against more brash American characters.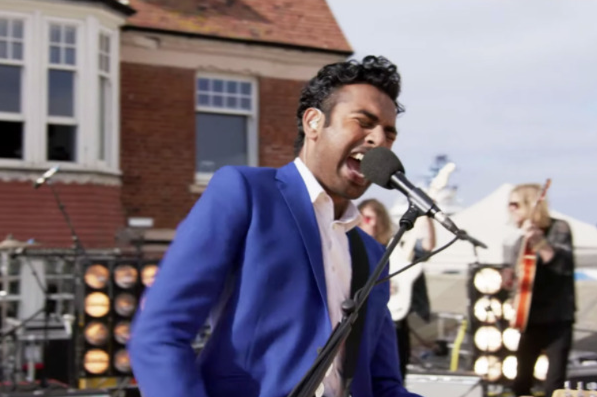 So it is with Yesterday in which a young but unsuccessful UK musician Jack Malik (Himesh Patel in his first major role) from the very unglamorous but almost cliched and end-of-the-line Clacton-on-Sea is about to toss it all in after years of fruitless busking, and playing empty pubs to a few mates and his loyal manager Ellie (the radiant Lily James of Downton Abbey).
This background is painted in at a leisurely pace then a sudden worldwide blackout occurs as Malik is riding his bike home. In the darkness he is hit by a bus and wakes up in hospital – battered, two front teeth missing – to a world where no one has heard of the Beatles.
He discovers this when he plays Yesterday to Ellie and his friends who acclaim it as one of the most beautiful songs they have ever heard. And he can't persuade them he didn't write it.
A Google search doesn't turn up the Beatles (it does the Stones but not Oasis) and so . . .
Malik starts playing Beatles' hits in bars . . . but to equal disinterest. This is perhaps the funniest passage in the film, great songs going right past people – his attempt to play Let It Be to his mum and dad is hilarious, as is his appearance on a local TV show – but then Ed Sheeran sees him and . .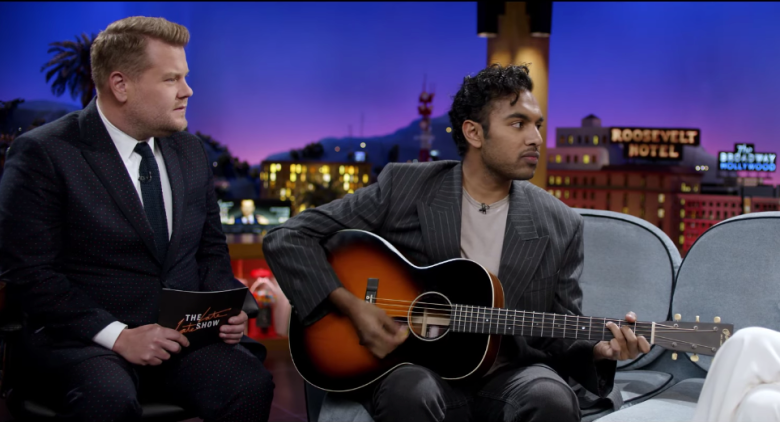 Sheeran as himself is a good sport (his ringtone is one of his hits, his suggestion for an improvement to Hey Jude very funny) and he realises this guy is a genius songwriter.
Enter his manager, the blunt American Debra Hammer (Kate McKinnon who get some great, condescending lines and withering assessments of Malik's appearance) and . . .
Away we go to Wembley.
Shot through with pop music references, visual teasers (Lowestoft Station appears, the home of The Darkness) and a neat skewering of the industry – the US marketing meeting is brilliant, Curtis again poking at brash America and consumerism – and of course all through Malik performs Beatles songs . . . and you are reminded that here was a group which had a song for every occasion and sentiment.
Help gets a stunning and appropriate reading.
Needless to say it gives nothing away to say Curtis provides a happy ending (that was always going to happen) but there is a neat twist which Beatle fans will get.
Yesterday is an enjoyably charming, sentimental, sometimes laugh aloud rom-com with a warm heart which is as much about the foibles of the music industry and its characters as it is about a world in which the Beatles – and Coca-Cola, cigarettes and another cultural touchstone in the punchline – don't exist.
Or do/don't they?
Yesterday opens in cinemas in New Zealand on June 27
Beatles fact and fiction blurs at Elsewhere here.