Graham Reid | | 1 min read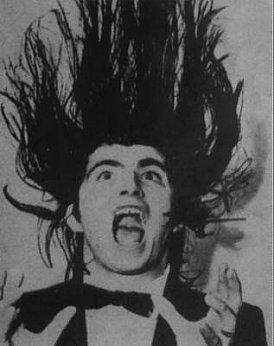 In later years Screaming Lord Sutch was better known for being the founder of the Official Monster Raving Looney Party in Britain and standing in various electorates (from '63) in weird outfits. He's in the opening scenes of The New Statesman standing against Alan B'stard (Rik Mayall). In the Stones' Get Off Of My Cloud, Sutch was the "guy all dressed up like Union Jack".
But back at the start of his singing career in 1960 he appeared at the famous 2i's coffee bar in London where Tommy Steele, Cliff Richard and Adam Faith had all been "discovered".
Back then Sutch was a genuine wildman of British pop. He had 18" hair, wore bullhorns on his head, and was heavily into shock-horror rock. He sang of vampires, Dracula, monsters and people crawling out of coffins. Sort of an English Screaming Jay Hawkins with more music hall than voodoo.
Those who played in his revolving-door bands or on his singles included Ritchie Blackmore, Jimmy Page, Matthew Fisher (later in Procol Harum), Jeff Beck and others. Many of his early songs (this one included) were produced by Joe Meek.
Most of his stuff is rubbish: Jack the Ripper is not a million miles from Alley-Oop, and other songs almost parodies of rock'n'roll and pop songs with horror lyrics (Monster in Black is akin to Venus in Blue Jeans).
Oddly enough, his eccentricity and crazy charm meant his '91 compilation album came with photos of Sutch with a young Nicky Hopkins, Elvis, Jimi Hendrix and Noel Redding, and Keith Moon. The White Stripes and the Horrors have covered his Jack the Ripper.
Sutch's career was one of ruthless but often very funny self-promotion, schilling various products, bankruptcy and depression. He committed suicide in '99 at age 58.
But for sheer nerve -- he freely admitted he couldn't sing -- he deserves to be pulled From the Vaults.