Graham Reid | | 1 min read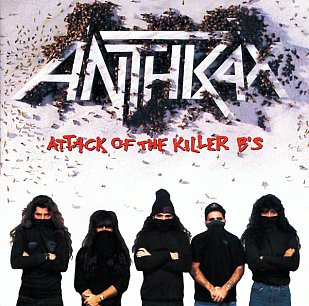 It's hard to believe, but a radio station in New Zealand -- which always seemed to be playing car dealer ads and 20 year old Led Zeppelin on the rare occasions I tuned in -- had as its slogan "No crap, no rap".
We can guess they weren't actually distinguishing between the two but by implication rap was crap.
It must have come as a shock to them when Run DMC covered Aerosmith's Walk This Way in '86 (with Aerosmith's Steve Tyler and Joe Perry) and the two groups teamed up for that impressive video where the walls between the genres were literally knocked down.
The crossover between rock and rap wasn't so hard to imagine (Public Enemy albums were LOUD!) and at its best it can be a thrilling hybrid. (Check out this and this.)
Nu-metal was the bastard offspring of this collision and for the most part is pretty woeful, but when the punk-thrash metal band Anthrax -- who know the virtues of volume -- hooked up with Chuck D of Public Enemy for PE's Bring the Noise the result was always going to be exciting.
It was also successful and -- like Aerosmith whose career was in the doldrums before Run DMC walked their way -- Anthrax got a leg up into a new audience. PE and Anthrax subsequently toured together.
Anthrax -- who have a family tree of former members which could fill a mosh pit -- always pushed out beyond thrash metal and early on included any number of covers (Sex Pistols, Black Sabbath, Joe Jackson, Kiss, the surf-rock classic Pipeline) on their EPs and b-sides.
Bring the Noise appeared on their compilation Attack of the Killer B's. It was made to be played LOUDERER!
I wonder if it ever got a spin on that "no crap, no rap" station? I wonder if that station still exists and if so . . . is it now playing 40 year old Led Zeppelin?
For more oddities, one-offs or songs with an interesting backstory use the RSS feed for daily updates, and check the massive back-catalogue at From the Vaults.