Graham Reid | | <1 min read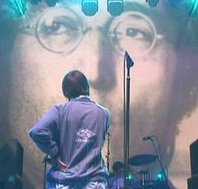 With the Gallagher brothers Liam and Noel going their own ways, at least for the time being (and some might wonder why they hadn't split up previously), you could almost get nostalgic for the glory that was Oasis.
Definitely maybe the Morning Glory years, and then by judiciously sampling from those albums in the Nineties which came with braggadocio but dimishing musical returns.
However in 2008 they delivered Dig Out Your Soul, an album of typically swaggering confidence and Beatles/Lennon references, but also a powder keg of blistering rock and psychedelic songs.
However by it being their seventh studio album and just part of the never-ending story, the album perhaps went past far too many.
No matter, that is why From the Vaults exists, to serve up this track which contains resonant echoes of their early greatness and reminds you what a wonderfully rowdy rock'n'roll band they could be at their best.
For more oddities, one-offs or songs with an interesting backstory use the RSS feed for daily updates, and check the massive back-catalogue at From the Vaults.