Graham Reid | | 1 min read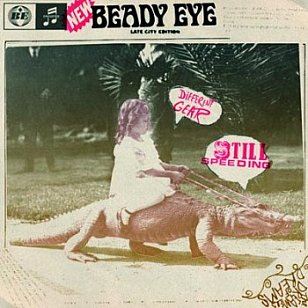 In one of life's great ironies it was, of all people, Ringo Starr who enjoyed the greatest chart success with a string of chart singles in the wake of the Beatles break-up. And who would have reckoned on Dave Grohl's subsequent career after Nirvana.
So perhaps we shouldn't be surprised that Liam Gallagher is the first Oasis brother out of the gates since the band split, or that this should be such a sound debut album for is "new" band, even though it was brother Noel who was the songwriter and prime-mover behind Oasis.
But just as George Harrison uncorked his bottled up songs post-Beatles -- and the Beatles references remain relevant, one track here is entitled Beatles and Stones -- so it sounds like Liam and the other Oasis members Gem Archer, Andy Bell and Chris Sharrock have unhooked themselves from Noel's widescreen sound and aimed straight to the heart of Lennonesque songs (and echoes sound, thanks to producer Seve Lillywhite) for a collection that is, if nothing else, enjoyable and filled with rowdy and referenced pop-rock hooks.
The first single The Roller and the closer The Morning Son are pure Lennon (a little Nobody Knows You, a lot Mind Games); the Beatles and Stones conjures up the spirit of the early Who (down to the piano part); For Anyone is a delightfully light and economic McCartney-like acoustic ballad; and there's '67 psychedelic pop-rock everywhere.
There's also no fannying about here: in the first half one track springs to life immediately its predecessor has ended, often with attention-getting, brain-snapping guitars -- although the hammered rock'n'roll piano which kicks in the pedal-to-the-metal Bring the Light is a welcome addition to their sonic palette, as are the female vocals . . . and the harmonica in Stones-like Wind Up Dream.
There are second-half makeweights – the shouty Standing on the Edge of the Noise, the overlong and shapeless Wigwam (sort of Small Faces/Lennon) and the ponderous The Beat Goes On which sounds like a Lennon-penned trippy piece for Ringo's character in closing overs of the Yellow Submarine movie.
But mostly Beady Eye have admirably recaptured the joyous, raucous inspiration which Oasis lost, especially on songs like the thrilling Bring the Light which pushes them into a promising new direction away from Oasis.
And lyrically Liam actually has something to say: on Kill for a Dream he seems to be open to a reconciliation with Noel ("I'm here if you wanna call") and elsewhere he urges life and engagement over sitting around thinking about past mistakes.
Despite a few lesser moments (an editor rather than a producer was perhaps required) Beady Eye have delivered a surprisingly enjoyable album, and one which would run against expectation . . . unless you remember Starr, Harrison, Grohl et al.
Like the sound of this, then check out this.