Graham Reid | | 1 min read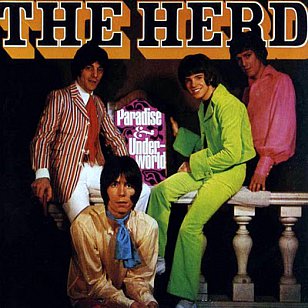 It's not often Greek mythology cracks the top 10, but the Herd managed to do it with song from the autumn of love (September '67) which is based on the Orpheus and Eurydice story.
After the death of Eurydice, Orpheus travels to the underworld and by using music he melts the hearts of the gods down there who agree to let the missus come back into life. The deal however is that she must walk behind Orpheus on their journey out and he is not to look back.
But you can guess what happened.
Actually you don't need to, the lyrics tell you that.
Oddly enough this hit for the Herd -- their first -- was written by Ken Howard and Alan Blaikley who had previously been responsible for a series of almost novelty hits for Dave Dee, Dozy, Beaky, Mick and Titch (Hold Tight, Zabadack and The Legend of Xanadu among them) as well as the terrific chart topper Have I the Right? by the Honeycombs.
They later wrote for Elvis (the great I've Lost You) and knocked out a musical based on the book The Secret Diary of Adrian Mole.
Versatile writers indeed.
Of just as much note in this rather gloomy song was the 17-year old singer: Peter Frampton whose good looks got him dubbed The Face of '68.
The Herd has les success with their follow-up Paradise Lost a couple of months later but then with Frampton on Rave magazine's cover they soared again with the relentlessly poppy I Don't Want Our Lovin' to Die.
Too poppy for Frampton who quit at the end of the year -- the band had already dumped managers Howard and Blaikely -- and went on to form Humble Pie with former Small Faces singer Steve Marriott.
His massive Frampton Comes Alive double album was still some way in the future and, unlike Orpheus, he was smart enough to not look back.
For more oddities, one-offs or songs with an interesting backstory use the RSS feed for daily updates, and check the massive back-catalogue at From the Vaults.