Graham Reid | | 1 min read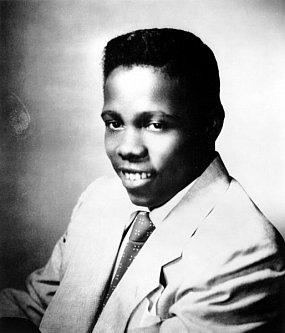 And further to the now familiar story that death is good for a career . . . Johnny Ace had been enjoying a very good run of hits throughout the early Fifties, so much so that maybe he thought he was bulletproof. Literally.
His story is well known, how on Christmas night in 1954, while at a gig in Houston he was fooling around with a gun (legend has a Russian roulette game but that has been refuted) and pointed the thing at his head to show it wasn't loaded and . . .
But the hits kept coming for 25 year old Ace and this was his biggest. It spent 10 weeks at the top of the Billboard r'n'b charts after Ace's death and crossed over into the pop charts where Teresa Brewer also had a cover version.
Ace's biographer James Salem said of this song, "the tone, mood and sentiment represent not only a standard Johnny Ace performance but the quintessential Ace performance".
Word has it that his death and this song prompted "grown women to weep and write suicidal poems to newspapers and magazines". (Galen Gart)
Johnny Ace's death was referenced by Paul Simon in his song The Late Great Johnny Ace (from his '83 Hearts and Bones album, see below) which also refers to the deaths of John F Kennedy and John Lennon.
He certainly wasn't the first or last to pay tribute. Within weeks of Ace's funeral there were tribute records by Johnny Fuller, Varetta Dillard (Johnny Has Gone) and Frankie Ervin . . . and as recently as 2011 Dave Alvin (who was born a year after Ace's death) had the story Johnny Ace is Dead on his Eleven Eleven album.
Johnny certainly was well dead by then.
For more oddities, one-offs or songs with an interesting backstory use the RSS feed for daily updates, and check the massive back-catalogue at From the Vaults.