Graham Reid | | 1 min read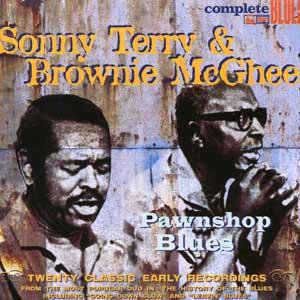 Although this song didn't appear in wide circulation until the Terry/McGhee 1964 compilation Pawnshop Blues, it seems to date back to the Thirties. Blind Boy Fuller recorded a version late in that decade (very similar, perhaps more considered) and as always with the blues, songs pass from hand to hand and down the decades.
It seems likely however that blind harmonica player Terry picked this up from Fuller direct when he played in a trio with him until the singer/guitarist died in 1941. Terry then hooked up with guitarist/singer McGhee, and the duo began a long-standing and wide traveling relationship (which eventually brought them to New Zealand).
They were in time for the resurgence of American folk in the Fifties, then the blues revival in the Sixties, and in fact became famous and feted. They even appeared in Steve Martin's The Jerk, which was some distance from playing Carnegie Hall admittedly.
Their influence also went wide -- Paul Simon sampled a Terry harmonica part for his terrific So Beautiful So What album -- and the association (rather fraught and tetchy some say) ended when Terry died in '86. McGhee followed a decade later.
But this song and its style, a blues standard which probably lacks an original author, has been handed on to others -- and you can hear where Mick Jagger, Keith Richards, Eric Clapton, Jimi Hendrix and others (Bert Jansch enthralled by McGhee's finger-picking style after seeing him in '60) learned their blues.
For more oddities, one-offs or songs with an interesting backstory use the RSS feed for daily updates, and check the massive back-catalogue at From the Vaults.