Graham Reid | | 3 min read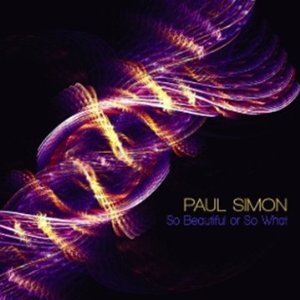 One of the things Paul Simon is seldom given credit for is his sense of humor. He too often comes off the kind of earnest New York Jewish singer-songwriter you imagine reads Dostoevsky at night but listens to doo-wop and old soul because he thinks it might be good for him.
Yet this is the man who did that clip for You Can Call Me Al with Chevy Chase, and his lyrics are often punctuated with as much wry humour as imagistic meaning.
On this new album -- fascinating on a musical level, more of that in a minute -- he offers the very droll Rewrite about a guy who works at the carwash but by night is reconfiguring his play/screenplay. It involves throwing away the title, changing the ending, and "I'll eliminate the pages where the father has a breakdown and has to leave the family but he really meant no harm. Gonna substitute a car chase and a race across the rooftops where the father saves the children and he holds them in his arms . . ."
Okay, it's a bit like the Richard E. Grant/Habeas Corpus thread in The Player, but this is from a man whose Broadway production The Capeman went belly-up and cost him millions. You can guess he had plenty of people suggesting changes to his script before, during and after.
Of course this album offers plenty of his sensitive and wry poetics, but it also kicks in with Getting Ready For Christmas (which uses a sample from a sermon by the Reverend Gates) and although it mentions turkey dinner and such seasonal pleasures, the singer is -- like everyone, especially at that time of year -- struggling for money and is also the uncle of a guy in Iraq. Simon's world weary voice sits well with the preacher's highly rhythmical sentiment.
"The power and the glory and the story of Christmas Day" sounds a little hollow.
Yet this is an album of deep spirituality -- God and the infinite universe is mentioned everywhere -- but again Simon, now 70, brings wry observations.
On The Afterlife he opens with "after I died and the make-up had dried I went back to my place" but he is told he can't enter Heaven until he fills out a form. And "after you climb up the ladder of time the Lord God is near . . . . you try to explain, but all that remains is a fragment of song, be-bop-a-lula".
Love And Hard Times, a beautiful and gently orchestrated piano ballad, opens "God and his only son paid a courtesy call on us one Sunday morning . . ." but the pair find humans are slobs so leave again. Could be funny, but the mood shifts and it comes off as a lovely rumination on love for his wife Edie Brickell.
And love is here as much as the spiritual. Love and Blessings is the title of one the chipper pieces ("Ain't no song like an old song, Charlie").
Simon delivers these thoughts with wonderful arrangements and musical influences from Indian percussion and steel guitar (both on the optimistic, love-filled Dazzling Blue), doo-wop vocal harmonies, light New Orleans funk, discreet references to African sounds (guitarist Vincent Nguini, Yacouba Sissoko on kora), soft dobro twang, talking drum, Sonny Terry on harmonica, gongs and wind chimes, a gospel sample from the Thirties, subtle electronics . . .
He even slips in a mention to a bomb in a marketplace which takes you to Graceland and current headlines simultaneously.
And as always has that ability to encapsulate a moment in a few lines as on the title track: "Four men on the balcony, all been looking at parking lots, pointing at a figure in the distance, Dr King has just been shot . . . "
Then "ain't it strange they way we're ignorant and seek out bad advice. We jigger it and figger it, mistaking value for the price. We play a game with time and love like a pair of rolling dice . . ."
In the liner notes Elvis Costello acclaims the unorthodox musical surprises throughout, as well as Simon's writing and guitar playing, and say he believes "this remarkable, thoughtful, often joyful record deserves to be recognised as among Paul Simon's very finest achievements". And given what achievements they have been over almost five decades, that is a bold claim. But he's right.
This is an exceptional album on so many levels.
A standout among such consistent excellence is Questions for the Angels: "A pilgrim on a pilgrimage walked across the Brooklyn Bridge, his sneakers torn, in the hour when the homeless move in cardboard blankets and a new day is born" and follows this homeless man who walks past a Jay-Z billboard and the questions he is asking himself, like who am in this world and where will I make my bed?
Simon says fools and pilgrims have to believe in angels, and maybe what else can they do?
"I do," he concludes quietly on an engrossing album which also posits the simple idea that in the end, an end which is much on his mind here, life is what you make of it.
Like the sound of this? Then check out this which is interesting more than essential listening.
FOR OTHER 'BEST OF ELSEWHERE 2011' ALBUMS GO HERE.