Graham Reid | | <1 min read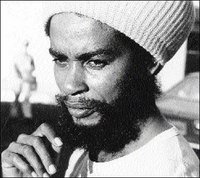 The great Max Romeo has his War Ina Babylon (produced by Lee Scratch Perry) as an Essential Elsewhere album for its street politics and memorable songs, but this was the thing which got him a lot of attention.
Produced by Bunny Lee at Studio One, understandably banned by the BBC ("lie down gal let me push it up, push it up"), not released in Jamaica, reaching number two on the British charts (headed off by the Beatles' Get Back) and weakly defended by Romeo as a song about rain on the roof -- the Lovin' Spoonful, see below, it ain't -- it remains a classic reggae single for its wit, groove laid down by Aston Barrett (of the Wailers), Leroy Wallace (of the extraordinary Rockers film) on drums and Ronnie Williams on guitar . . .
Oh, and because of the rude and rather unflattering lyrics about the object of his desire, of course.
Dirty felluh!
For more oddities, one-offs or songs with an interesting backstory use the RSS feed for daily updates, and check the massive back-catalogue at From the Vaults.