Graham Reid | | 1 min read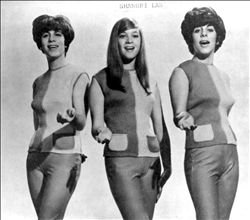 The spoken-word song -- often with a moral or a message -- has rarely been as popular as it was in the early Sixties. Back then there were numerous examples and although only a few became hugely popular the idea was a legitimate form.
The Shangri-Las -- better known for Walkin' in the Sand and their terrific Leader of the Pack among other widescreen hits -- weighed in with this memorable piece (with a moral) which was rather a late entry in the spoken-word stakes.
By '65 the girl group phenomenon had passed, as had spoken-word songs, but with I Can Never Go Home Anymore (and Past, Present and Future the following year) they still saw something in it. Or at least the great George "Shadow" Morton who wrote and produced it did.
Ironically when the war in Vietnam really rolled out for Americans a few years later the spoken-word song returned (to no great chart success) in songs that were often sentimentally awful (Little Becky's Christmas Wish).
But for this tale of a mother and daughter relationship destroyed by teenage wilfulness over a boy, singer Mary Weiss milked the melodrama and, at the central pivot, let go a primal yelp for "Momma" which is full of pain and despair.
For all that it seems cheaply sentimental -- in the year of the Stones' Get Off of My Cloud and Satisfaction, the Byrds' Mr Tambourine Man, the Beatles' Daytripper and Bob Dylan's bitter Positively 4th Street -- this went to number six on the US charts.
Proof indeed that there was something in the message which connected with a broad, and possibly confused, teenage audience caught between the constraints of family life and the seductive pull of the wider and more exciting world.
In that, I Can Never Go Home Anymore has a timeless quality.
For more one-offs, songs with an interesting backstory or oddities see From the Vaults.