Graham Reid | | <1 min read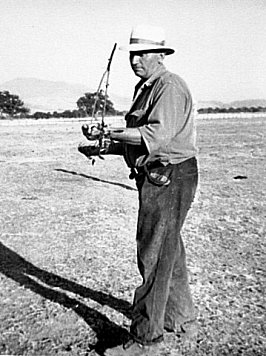 While we might agree that war brings out the best and worst in people, it undeniably brings out the utterly atrocious when it comes to patriotic songs.
Most are sentimental, stridently nationalistic, simplistic to the point of insulting and largely forgettable other than for some unintentional humour in later years.
At From the Vaults we have posted a few which fall into all of those categories (see here, here for examples to turn your stomach or make you laugh) which makes you wonder why anti-war songs sound so persuasive?
There have always been those songs which almost make war in foreign parts sound fun too.
Ozzie Waters was known as the Colorado Ranger and was a prolific recording artist during and after the Second World war who also offered such sentimental delights as I'd Like to Give My Dog to Uncle Sam (below, a blind boy willing to sacrifice his guide dog for the war effort).
On this song he sure makes shooting, killing and bombing sound like a whole mess o' fun, y'all. Kinda makes you wanna saddle up the ol' pony and ride on down to the recruiting office, huh?
For more one-offs, oddities or songs with an interesting backstory see From the Vaults.