Graham Reid | | 2 min read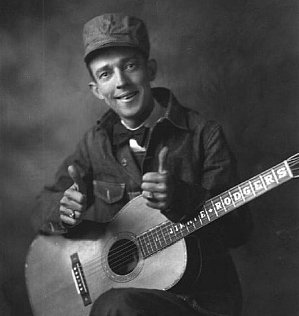 Jerry Lee Lewis once said there were only three stylists in country music: Al Jolson, Jimmie Rodgers and, of course, Jerry Lee Lewis.
Rodgers -- known as The Singing Brakeman after his time on the railroads -- brought black blues and yodeling into country music and created a sound which was at once unique, and created a template for others to draw upon.
He had picked up the blues -- and possibly learned the banjo -- from black musicians he encountered while riding the rails and many of his songs were later covered by blues artists, the Mississippi Sheiks, Fats Domino and Memphis Slim among them. Maybe it was from the blues artists he learned the art of innuendo: "If you don't want to smell my smoke, don't monkey with my gun" (in Pistol Packin' Papa).
He started singing after he left the railroad through ill-health -- the tuberculosis which would kill him at age 35 -- and toured in black-face in a traveling show.
And although many white artists had worked with black musicians, it is believed Rodgers was the first to record with one. In July 1930 he had Louis Armstrong play cornet on his Blue Yodel Number 9, recorded in California.
Rodgers had his first recording session in Tennessee in August 1927 (the previous week the Carter Family had been in the same make-shift studio) and in six years he recorded well over 100 songs. Most of them were blues-flavoured country (although some had Hawaiian influences) and few didn't have his distinctive yodel. His catalogue included future contry standards Muleskinner Blues, Waiting for a Train, In the Jailhouse Now, I'm Lonely and Blue, Yodeling Cowboy, My Rough And Rowdy Ways . . .
His style opened the door dozens of others including Gene Autry, Hank Snow and obviously the late Slim Whitman. He sold a lot of records, even during the Depression, and many of his songs of home, lost love, trains, mum'n'dad, absent soldiers and more lost love became country classics. Lines from his songs were borrowed by other white country and black blues singers.
His style influenced others down the generations too and you could imagine Bob Dylan in his Self Portrait period covering Rodgers' Miss the Mississippi and You ('32), Rodgers sounds uncannily like Dylan on it.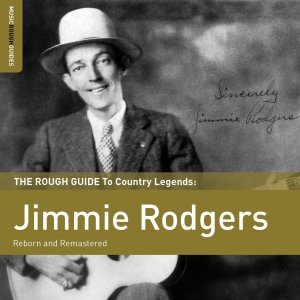 In May 1933 Rodgers was in New York for what would be his final sessions -- he wanted to record a dozen songs to support his wife and child -- and died after a sightseeing tour of Coney Island with his private nurse.
Rodgers left an enormous legacy of songs and an enduring style, and was the first musician to be elected into the Nashville Country Music Hall of Fame (unanimously), almost 40 years after his death, along with Fred Rose and Hank Williams.
This recording posted is taken from an excellent 25-track Rough Guide to Country Legends; Jimmie Rodgers which also comes with a bonus disc (Country Music Pioneers) which includes material by the Carter Family, Sam McGee, Uncle Dave Macon, Dock Boggs, John Hammond and the remarkably prolific Vernon Dalhart whose extraordinary story is told here.
If you have never given Jimmie Rodgers much attention, this is the place to start on the country/blues legend. You even get used to the yodeling after a couple of songs.
For more oddities, one-offs or songs with an interesting backstory use the RSS feed for daily updates, and check the massive back-catalogue at From the Vaults.