Graham Reid | | 2 min read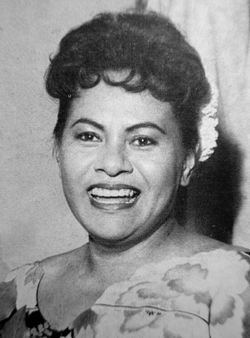 Because her career as singer was mostly in the United States -- where Sinatra apparently called her the purest voice in jazz -- Mavis Rivers was for many decades after 1953, when she made the first move from Auckland, more respected in New Zealand than actually heard.
Yet in her brief period in Auckland -- the family originally from Apia, Samoa arrived in Auckland in 1947 when she was in her teens, she had 12 brothers and sisters -- she recorded a number of songs for the fledgling TANZA (To Assist New Zealand Artists) label among others and was instantly popular.
She was a fan of Ella Fitzgerald but, lifted from the Mormon choir in which she sang to join guitarist Tommy Kahi's jazz group, she was immediately picked up for sessions with pianist Crombie Murdoch and for radio work. She was just 18 and became a regular on the vibrant club and concert hall circuit playing the Orange Ballroom, the Civic Theatre and the Peter Pan.
She appeared the famous 1950 jazz concert at the Auckland Town Hall but three years later was accepted on a scholarship to study at Brigham Young University in Utah. Hoping to perform in the US -- her natural home, during the war the family had moved to American Samoa where she entertained the troops and avidly listened to and learned from US jazz records -- she moved into television appearances but when her visa expired briefly returned to Samoa.
In '55 however she was back and working in Los Angeles, recording for Capitol (the label of Frank Sinatra and Nat King Cole), then moved to Las Vegas where Sinatra saw her and signed her to his new Reprise label. The only others on the roster were Sinatra himself and Sammy Davis Jnr.
"At the very beginning I was the only girl. There was Sammy, Frank and me. I stayed with them until they merged with Warner in the late Sixties. Made a lot of singles. What fun."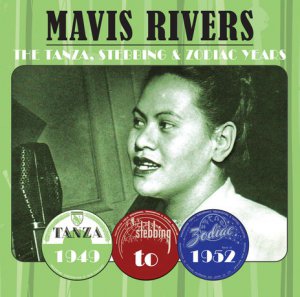 Over the decade she shared bills with the likes of Miles Davis, Ella Fitzgerald, Sarah Vaughan, George Shearing and others, and made numerous television appearances.
All of this was largely out of earshot of New Zealand audiences who had been seduced by her style, but she made occasional return visits before her death in LA in '92. She was 63.
Hers was a remarkable life from Apia to Vegas and this posted song -- with Bill Wolfgramm and His Rhythm band -- comes from an excellent and long overdue CD collection of 28 of her locally recorded sides for TANZA, Stebbings and Zodiac (on Ode, produced by Grant Gillanders and Roger Marbeck).
All are lifted from 78s but the sound quality is very good, there are informative liner notes by Kevin Bowen and excellent artwork by Barny Bewick.
It's an important collection from a rare talent who passed through New Zealand life and was not forgotten by the generation lucky enough to see her live or hear that silken voice coming down the wirless.
For more oddities, one-offs or songs with an interesting backstory use the RSS feed for daily updates, and check the massive back-catalogue at From the Vaults.