Graham Reid | | 1 min read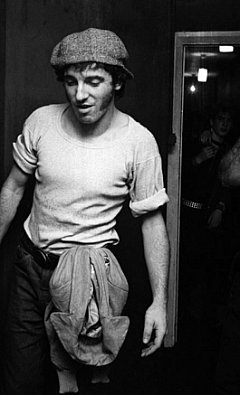 The recent box set The Ties That Bind; The River Collection showed how Bruce Springsteen was so prolific in the period when he was writing what became the double album The River.
Once all those songs poured out -- about 60 in all -- and he'd done 18 months of touring on the back of the album he returned to his home studio trying to re-think what his phenomenal success meant. And what was happening in America at the time.
In his songs to that point he had celebrated the outsiders who had a heroic or survivalist streak, but for his next batch of songs -- which became the folk-framed Nebraska album -- he wrote about the misfits, criminals, those forced by circumstance to live outside the law or the reluctant sinners.
During the writing he realized these songs couldn't effectively be interpreted by the E Street Band so they formed a very solo Springsteen album.
One song however lay around and didn't make Nebraska, but did get taken to the band for a banging treatment later. It became the anthemic Born in the USA which was -- oddly enough -- appropriated by Ronald Reagan's PR people (who clearly only listened to the title line and thought it a paean to patriotism).
In time Springsteen dropped the bellicose version of Born in the USA in favor of how he first conceived it, as a spare and downbeat folk song.
Since 9/11 that is how -- on the rare occasions he has played it -- he sings it.
The original version here appeared on his Tracks collection.
For more one-off, oddities or songs with an interesting backstory see From the Vaults.