Graham Reid | | 1 min read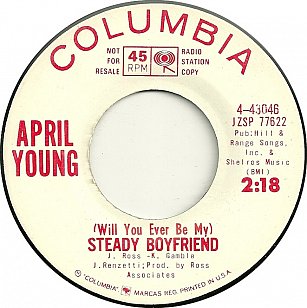 It's one of those factoid which floated into Elsewhere's orbit: a survey which found that only three percent of songs in the American charts in the Fifties were about sex. By the Seventies the figure had risen to 40 percent and in 2009 it was 92 percent.
We can't vouch for any of this – it rather depends on how you define "sex", if nothing else – but we could agree that Iggy Azalea's Pussy might not have got released in 1955.
There were certainly songs about sex in that rock'n'roll era (we're still wonder how John and Jackie got away with this saucy little number) but most of the lyrics were about holding hands, dating and variations on does he/she love me?
So in our drive to make pop music more wholesome and reject the filth we are flinging at our young people, we post this by the non-hit wonder April Young from Philadelphia.
It wasn't for want of trying though, her writer/producer Jerry Ross released four singles by her – this B-side he co-wrote with Kenny Gamble and arranger Joe Renzetti.
Ross was something of a one-man Spector-like character whose Ross Associates, launched in '60, was a songwriting factory, training ground and booking agency.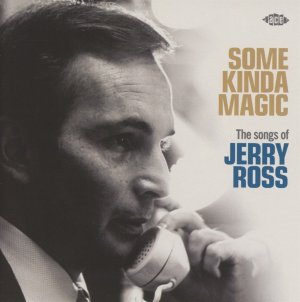 He wrote and/or produced for some big names at the time, among them Bobby Hebb, Chubby Checker, Jerry Butler, Reparata and the Delrons, Dusty Springfield and Les McCann among them.
Songs by these artists and others are collected on Some Kinda Magic; The Songs of Jerry Ross (Ace, through Border in New Zealand), but unfortunately it seems none of them enjoyed hits with Jerry.
Hebb's career was in decline after his huge hit Sunny when Ross got him, so too Chubby (who he pushed towards soul) . . . and so it went.
Interestingly Ross – who worked a lot with Kenny Gamble of Gamble-Huff fame – co-wrote Daylight Savin' Time with Mort Shuman, the song which became a hit in New Zealand for Sandy Edmonds . . . and it is also included on the 24-song collection.
As for April Young, after four shots at the charts with no success she got the message, married Jerry and quit showbiz.
But her wholesome song deserves an airing, it just oozes the innocence of the era.
Although the first song on the album is the Ross-Gamble-Huff hit I'm Gonna Make You Love Me by Dee Dee Warwick and the first lines are "I'm gonna do all the things for you a man wants a girl to do . . . oh baby . . ."
Filth, just filth.
For more one-offs, songs with an interesting backstory or just plain odd things see From the Vaults.