Graham Reid | | 1 min read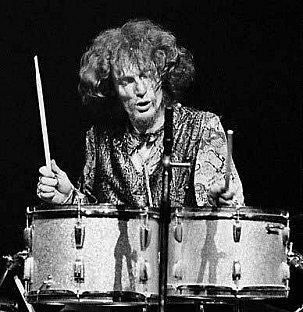 At the time of this writing the drummer Ginger Baker has just died. He was 80 and, if you know anything about his life, you might be amazed that he lived so long.
In the obituaries or fan comments, some will hail hm as the greatest drummer in rock . . . but that's always going to be a debatable point.
That he could play different but interlocking rhythms on all four limbs simultaneously certainly put him far ahead in the pack.
But truth be told although he was the driving force in Cream with bassist Jack Bruce and guitarist Eric Clapton, some of his later work in jazz and more left-field experiments (not to mention his time with Ginger Baker's groundbreaking fusion ensemble Air Force) were just as interesting, if not more so.
Despite the friction between them (they had a fist fight at the first Cream get-together by all accounts), Baker and Bruce recorded together after that power trio broke up in '68, and albums on Bill Laswell's Axiom label under Baker's own name or in quieter collaboration with others are worth seeking out.
But not if your idea of Baker's greatness was his tub-thumping tour-de-force Toad.
We go back to Cream days for this oddity however which appeared as one of the studio sessions on the Wheels of Fire double album (one record in the studio, the other live).
It was a time when many artists took advantage of their sales power and the drugs to just put on throwaway pieces and exercise some humour in the middle of all the po-faced seriousness about "the cultural importance of rock".
And no, we won't "remember him this way".
For more one-off, oddities or songs with an interesting backstory see From the Vaults.