Graham Reid | | <1 min read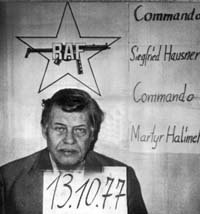 The idea of "found sound" was hardly new when Brian Eno, Judy Nylon and Patti Palladin (aka Snatch) and Eno's then-familiar crew of Phil Collins (drums), bassist Percy Jones and guitarist Paul Rudolph release this as the B-side to his song King's Lead Hat (an anagram of Talking Heads) from his Before and After Science album (a longtime Essential Elsewhere album).
The RAF of the title refers to the Red Army Faction, a violent left-wing revolutionary group lead by the Baader-Meinhof Gang, and it is radio broadcasts of their voices which are heard in telephone conversations with the police demanding a ransom for the release of the Dutch industrialist and former-Nazi Hanns-Martin Schleyer who they'd kidnapped.
It is a dense and unnerving piece of loops, aural fragments, edits from the broadcasts and the kind of slurry beats which Eno would further explore with David Byrne on their My Life in the Bush of Ghosts album two years later.
It was an abortive kidnapping and after the police declined the ransom some already captured RAF members were found dead in their prison cells. After which . . .
Schleyer's fate is made clear in the final seconds.
.
For more one-off, songs with an interesting backstory or oddities see From the Vaults.