Graham Reid | | <1 min read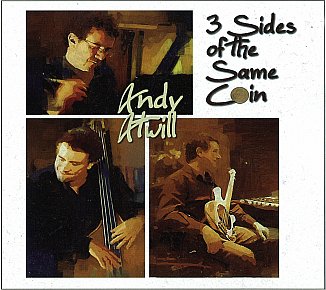 Bassist (electric and acoustic), composer and arranger Atwill pulls together the cream of New Zealand jazz players (including Ron Samsom, Carolina Moon, Kevin Field and Kim Paterson) for this calling card of diversity recorded in London (which explains the presence of Greg Heath), Sydney, the States, Germany and New Zealand over the past five years.
From the self-explanatory titles on Bass Bop and Take The MonkTrane, vibrant Latin-inflected tunes, the ethereal ECM sound of Patchwork Quilt (Heath in Garbarek mode), post-Weather Report manoeuvres (Wears the Melody, How Can I Forget You) and other across-the-spectrum styles, this one keeps you guessing, constantly impressed and -- if it comes as a little less than coherent for all that -- you have to acknowledge the excellent playing by all.
Atwill sometimes lets his inner Jaco show too, and at such times -- and for the consistency of his compositions -- you can see why he would have little trouble getting the other players to join him in this project.
Nominated for the 2010 Jazz Album of the Year at the NZ Music Awards.