Graham Reid | | 1 min read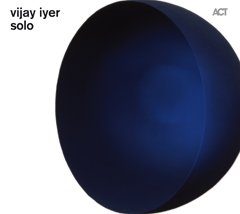 This gifted, multiple-award wining pianist and rather ferocious intellect has been profiled at Elsewhere previously (here) and this album is perhaps the one which will be persuasive evidence that he really is something.
Eleven pieces played solo -- among them Monk's Epistrophy, the standards Darn That Dream, Ellington's Fluerette Africaine and Black and Tan Fantasy, alongside a number of originals predominantly in the second half -- which reveal his thoughtful intensity and how he is expanding the jazz idiom.
After the melodic opener Human Nature (the Michael Jackson song which narrowly avoids veering into New Age ambience at some points) he takes apart the Monk in a vigorous reading then pulls right back for a gentle exploration of Darn That Dream which is as light of touch as the Monk is muscular.
His brief Prelude: Heartpiece -- all discordant tension yet somehow romantic -- ushers in his own compositions which open with the free, busy and seemingly fragmented Autoscopy (an out of body experience, he explains) then moves into the initially spare, eight minute ballad Patterns which is the highlight and centre-piece. It opens out like a raga with the pianist exploring idea before launching into powerful and rhythmic playing which circle around and back to a central idea.
He closes his bracket (and a stately Fluerette Africaine) with a lively tribute to Sun Ra in One for Blount.
Vijay Iyer has staked out a lot of ground already in his career and here is the reason why he has won such acclaim. He explores the piano and the music in way that can be enlightening and often exciting.