Graham Reid | | 1 min read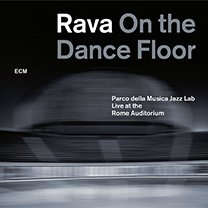 Of all the tributes to Michael Jackson, this -- by the great jazz trumpeter Rava -- would seem the most unexpected. If Miles Davis were still alive we might not have been surprised by such an exploration of Jackson's tunes, but European Rava admits he only ever had passing acquaintance with Jackson's music.
It wasn't until a few days after the singer-writer's death that he came home from a concert and found his wife watching a DVD of Jackson concert that he registered it and "was swept away as if by a tornado".
"From that moment onward I couldn't live without this music".
So this is not only genuine and heartfelt, but also less of a tribute than a recognition that these tunes -- among them They Dont Care About Us, Thriller, Smooth Criminal and Blood on the Dance Floor -- are strong vehicles for his esemble who either play a fairly straight bat or tease them apart, as on the tricky arrangement of They Don't Care About Us which sounds like a demented fairground tune at the start before they locate a reggae lilt for the hook then turn up the heat by taking it on like a free jazz elephant blowing a boisterous saxophone.
The moody Thriller has been in many jazz band repertoires (way back Lester Bowie's Brass Fantasy kicked it off) and Rava and group boil it up with the trumpeter pulling out the melody line like Davis on heat. The ensemble however don't quite come to the same party.
There is a nine minute medley of I Just Can't Stop Loving You (the Jackson tune) and Smooth Criminal which starts barely audible then hits a rolling boil in horn-driven funk, and Rava avoids the obvious by including a wonderful treatement of the sensitive Little Susie (from HIStory).
The centrepiece is a warm, heart-aching version of Charlie Chaplin's ballad Smile (which Jackson also covered).
So while this may be of little interest to Jackson fans, Rava again proves what exceptional melodies and harmonies Jackson employed, and how they are valid vehicles for jazz improvisiation.
When this hits its straps on rocking funk it is pretty terrific . . . but it might just be the ballads like Little Susie you return to more often.
Like the sound of this? Then check out this.