Graham Reid | | <1 min read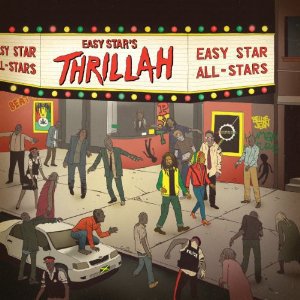 And of all the tributes to Michael Jackson, this might be the most expected.
Easy Star All-Stars make a habit of taking classic rock and giving it the reggae/dub treatment (Beatles, Radiohead, two stabs at Dark Side of the Moon, see here for the second) but here they kick in with a very interesting African jive version of Wanna Be Starting Somethin' which aims towards Afrobeat in its closing overs.
Elsewhere things are more familiar although guests include Steel Pulse, Michael Rose (Black Uhuru), Luciano and others who have been fellow travellers for a while.
Like those orchestral albums of classic rock songs or a dog that can walk on its hind legs you always applaud the effort but do always wonder, "Why?"
Another diversion from the Easy Stars and while we acknowledge the long tradition of reggae artists co-opting material for their own ends this just sounds . . . tame and calculated?
Still like the idea of this? Then check out this.