Graham Reid | | 2 min read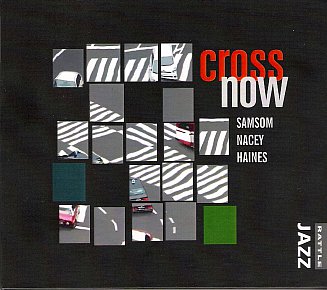 In a recent conversation with keyboard player Murray McNabb and drummer Frank Gibson -- who have played together for 50 years and founded the seminal New Zealand jazz bands Dr Tree and Space Case -- the topic turned to the problems for younger players today.
Not enough live work and no residencies came up immediately. No place for musicians to work things out in the crucible of the bandstand, to become intuitive in the place that really counts.
And there was a lack of continuity in groups or those wanting to work together.
In Auckland in recent years that has certainly been true -- although the Creative Jazz Club Aotearoa has provided a good opportunities and a platform for locals and internationals alike -- but too often you get just one album from a group and no follow-up.
Fair enough maybe. People go overseas, want to try their hand with different players and so on.
But it is always welcome to hear some continuity, which makes this album especially significant.
This trio of drummer Ron Samsom, guitarist Dixon Nacey and bassist Kevin Haines delivered the very fine Oxide two years ago, but on that occasion they had guest players (among them pianist Kevin Field and saxophonist Roger Manins).
This time out though we have a pure trio recording, and it is exceptional.
A hallmark of a mature jazz musician is often a sense of space. Less assured players can be full of urgency because rapid-fire playing can always impress by its immediacy, but it takes real confidence to leave space . . . especially in a trio setting.
Here a piece like Qua is a showcase of gently explorative playing and the space around it, and to it Nacey brings memorable but constantly unexpected directions in some shimmering guitar work. And Seiko which follows open with a similar sense of spaciousness before the trio pick up the pace and intensity -- Samsom cleverly shifting the accents, Haines with a propulsive chug.
Elsewhere there are more visceral thrills: Haines' bassline on the opener Broken Tones briefly conjures up Little Green Bag before things head off into some repeated figures by Nacey; Conversations with Dr Small swings as Nacey bends notes and Samsom lays down angular rhythms; the title track swerves between passages which are discreetly melodic (and almost cry out for lyrics) and edgy post-fusion energy; and Happy Dance is exactly that for the most part until they again let space to the talking . . . then take off into some pulse-racing playing which drags you along for a unpredictable ride.
And it is that unpredictability here which keeps your attention and gets you coming back, listening to passages over and over to hear where the mood shifts and the emphasis changes . . .
Beautifully recorded at Roundhead Studios by Neil Baldock and given substantial but sensitive packaging by Rattle, this is the kind of local jazz album which can only come from that internal chemistry in a band of like-minded but different players who have taken the time to work together, listen to each other and make the connections.
Highly recommended.