Graham Reid | | 2 min read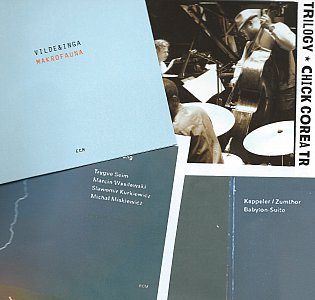 Facing down a slew of jazz releases, Elsewhere will every now and again be obliged to do a quick sweep like this. Comments will be brief. But we are keen to acknowledge as many jazz releases as we can . . .
Chick Corea Trio; Trilogy (Concord): Still at the top of his game -- as those who have seen him in New Zealand in the past few years will attest -- pianist Corea, now 73, here offers a three CD set of material from recent tours with his trio of Christian McBride (bass) and Brian Blade (drums) plus a few guests (including his wife, singer Gayle). There are standards (Monk's Work and Blue Monk, My Foolish Heart, How Deep is the Ocean? and Someday My Prince Will Come where Gayle offers a pristine but somewhat bloodless treatment) alongside his own classics (an 18 minute exploration and expansion of Spain, Fingerprints) and one of his classical pieces, the 30 minute PIano Sonata; The Moon. In brief liner notes he says there was too much material from two tours which they recorded for him to listen to everything so he just chose "a few renditions we did from the different parts of the world we visited". Such modesty, such great music.
Chick Corea is interviewed at Elsewhere here and his final lines then were "when I play for people and it pleases them and they hear something beautiful in it, then I'm fulfilled."
Jacob Young; Forever Young (ECM/Ode): Guitarist Young is here with Elsewhere favourites Marcin Wasilewski (piano), Michal Miskiewicz (drums) and bassist Slawomir Kurkiewicz -- of Marcin's trio which is Tomasz Stanko's band -- and saxophonist Trygve Seim who has known Young since school. Seim has also played with the Polish trio in Manu Katche's touring band. So all these connections should make sense . . . but it's a mostly muted and quietly considered affair, and both Seim and Wasilewski are often the standouts player for their blue-mood European melodicism in the ballads. Young sometimes comes on like a restrained George Benson a little out of kilter with the rest. Pleasant . . . but not a lot more.
Vilde&Inga; Makrofauna (ECM/Ode): Now this is more like it, a real listening challenge. Vilde Sandve Alnaes is a violinist and Inga Margrete Aas plays double bass . . . but neither as you might expect. The opener Under Bakken on this 11-piece, 47 minute brow-furrowing album is more like the left-field prepared guitar of Fred Frith and similar experimentalists of the Seventies. And they don't resile from that afterwards. These vaguely familar sounds of slowly scraped wire strings and distant plucked bass notes are juxtaposed with a great sense of space, passing melodic ideas, deep space sonic allusions and demanding experiments in pure sound. Not all experiments are successful (that's why they call them experiments) but to my ears these are. This was recorded in 2012 at the Norwegian Academy of Music so I take it these young women are music students who've been given their heads in a studio, and perhaps know their Frith and Fluxus. In one cover image look like they have thoroughly enjoyed themselves while in the others they are intensely focused. Their music sounds like both. Welcome to the difficult listening session.
Kappeler/Zumthor: Babylon Suite (ECM /Ode): And welcome back, but in slightly more benign way. This Swiss duo of Vera Kappeler (piano) and Peter Conradin Zumthor (percussion) were commissioned for their debut together and it was recorded in a seemingly cavernous hydroelectric power plant in a place called Tinizong. Which might elicit that response, "I guess you had to be there". Fair enough, and you probably did . . . but these discrete pieces (based on the Book of Daniel: you know, the lion's den, the fiery furnace and all that) exist in their own right and, of course -- given the environment -- reward the best stereo system you have (which in this diminishing audio days is probably the car). Deliberately fragmented and muscular improvs knock heads with stately piano passages (the centrepiece Annalisa, to which Zumthor brings disconcerting swipes of sound). Easier than Vilde&Inga (above) but still a challenge even when it does seduce by gentle pointillistic piano (Traumgesicht, before stentorian pianistic darkness descends). A kind of heroic optimism appears to prevail in the closing sections. Whew! But then . . .