Graham Reid | | 3 min read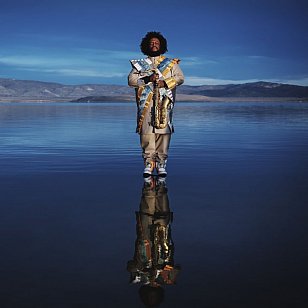 When composer/saxophonist Kamasi Washington announced himself with the magisterial triple CD The Epic in 2015, many were impressed by the ambition and scope (it was indeed epic in both) as much as by how Washington integrated a considerable number of black American music – jazz which reached from bop to astral aspiration but also soul, funk and more -- into what seemed like a unified vision.
When he and his band appeared at the Auckland City Limits festival in 2016 there was terrific soul-funk element advanced and it was party time, but his subsequent appearance at the 2018 Womad seemed less focused, less urgent and more dependent on the flash from soloists. Exciting for sure, but there were times when motions and gestures were on display and little else.
Washington last album – or was it an EP? – Harmony of Difference last year consolidated rather than expanded his reputation and that of his large ensemble (after an epic anything else was going to seem somewhat lesser) and now comes this double disc which is as ambitious as The Epic in the duality of its title and intentions.
There is a reaching spirituality here once more but the political agenda – understandable in Trump's divisive America – comes to the fore immediately: "We will no longer ask for justice . . . instead we will take our retribution" and "it's over all you all" say the voices of Patrice Quinn and Dwight Trible on their expansive interpretation of the theme to Bruce Lee's Fists of Fury which opens the Earth disc.
It is a striking first salvo but even more powerful is what follows. In its nine minutes, Can You Hear Him moves from reflective and increasingly vigorous Seventies-style fusion into a searing and swirling post-bop when Washington's tenor sax comes in at the halfway point. In his narrow melodic range but almost claustrophobic energy – as the chorale part reaches for the stars behind him – Washington delivers a magnificent evocation of innercity madness while the other world (to be explored on the second disc) exists somewhere as a distant possibility.
Freddie Hubbard's Hub-Tomes get an equally first-tight treatment but the tension fonds release in the mellow Connections which recalls the quieter end of Weather Report with some natty synth work by Brandon Coleman which again recalls the mid-Seventies (but again that large chorale appears which can seem a hand overplayed in the long haul).
A constrained free-jazz turmoil introduces The Invincible Youth which dissipates and a slight piano melody introduces a gently orchestrated piece with subtle Latin shuffles
As with his previous work, these are ensemble pieces so considerable kudos to, among others, trumpeter Dontae Winslow, and trombonist Ryan Porter who are empathetic to Washington's grandiose vision which includes reference to Coltrane (Tiffakonkae's exploratory ethos).
If most of the Earth disc rather obviously keeps the attention on the street (and the genres which have sprung from it) it closes with the more spiritually inclined and expansive bop of One of One which acts as almost as a segue into the Heaven disc which announces itself with equal certainty where it is headed: the first piece is The Space Traveler's Lullaby.
With strings and that choir again, it sounds much as the title suggests, a more measured consideration than Sun Ra whose name is often -- and often rightly -- checked in Washington's work. There's something of a heroic Broadway musical or romantic Fifties soundtrack element in the centre of its 14 minutes also aa the lush strings take command.
There are some pieces – Street Fighter Mas which is fine taken out of context but somewhat lost inside the bigger vision here – which don't quite engage, but then some conceptions are outstanding, notably the final three pieces of Heaven: the contained bop of The Psalmist (with its dueling drums passage which never feels like showy soloing), the Coltrane-like spiritual ascendancy of Show Us the Way and the final optimistic piece Will You Sing which takes us all straight to church, and again a very hip one.
If Earth is real then so is Heaven, and in Washington's hands Heaven is also a pretty sensual and funky place (the vocoder ballad Vi Lua Vi Sol with a warm trumpet solo at its centre).
For The Epic cover Washington posed like some Buddha-like master on an interstellar trip, here he looks as if he is walking on water.
That might be too great a messianic claim to make at the moment, but let's give him this . . .
Kamasi Washington doesn't shortchange his listeners although, again, the scale of this – as much as how individual pieces morph and change styles and direction – makes for listening best undertaken in discrete sessions rather than trying to assimilate in its entirety.
Kamasi Washington and his players remain in a vanguard of their own creation, as much by looking to past masters and models as by embracing the possibilities of Great Black Musics to point into the present and beyond.
Elsewhere has a 2016 interview with Kamasi Washington here
ADDENDUM
Hidden in the sleeve of the double CD -- you need to take a blade to the centrespread of the gatefold -- there is extra disc! I believe it is also there with the vinyl edition too.
Washington hardly scrimps either, the disc has five pieces and runs for 40 minutes, more than many albums these days.
The first piece is a hard edged post-bop stinger, again with the choir (and an orchestra) giving it lift-off at key points. There's also a 10-minute midnight blue ballad treatment of the Goffin-King classic Will You Love Me Tomorrow with cascading piano figures by Cameron Graves (who, like Washington, might benefit from some economy at times) and singer Patrice Quinn, and . . .
Just more.