Graham Reid | | 3 min read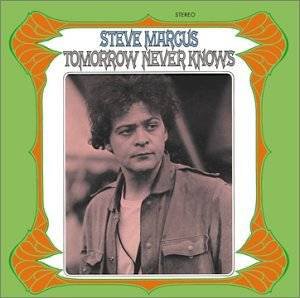 When saxophonist Steve Marcus died in 2005 age 66, he left behind a small but interesting legacy of albums, one of the most curious – not the least for who played on it as much for what they played – was recorded in 1968 with producer Herbie Mann for ATCO.
It was Tomorrow Never Knows, named for their 11 minute exploration of the Beatles' title track.
Big producer for a big label, and this was Marcus' debut under his own name . . . so a lot of people had faith in him.
As they should: he'd been at Berklee in Boston until '62, played with Stan Kenton in one of his more experimental units and worked in the nascent jazz-rock idiom with Mann, Gary Burton and in the Jazz Composers Orchestra.
But . . .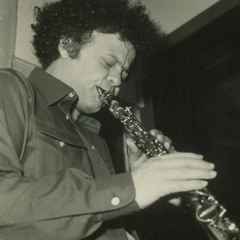 "I had spent much of my previous years completely enveloped in Coltrane and Bartok and really heavy, profound music," he told the writer Stuart Nicholson, "and then when the Beatles came along I just felt like a kid again."
And in '67 while living in New York and infatuated by this new hippie-era music he had the neighbours who were also keen to explore the new sounds, but from a jazz perspective.
Those friends and neighbours were guitarist Larry Coryell, bassist Chris Hills, drummer Bob Moses and New Zealand pianist Nike Nock, all of whom played on Tomorrow Never Knows.
Nock had met Marcus and Burton at Berklee and when Nock formed his band Free Spirits, Marcus was a big fan, according to Moses quoted in Norman Meehan's Nock biography Serious Fun.
Marcus – called The Count – didn't have much trouble winning over Nock to exploring the new rock sounds.
"I remember a night when Steve Marcus played me a choice selection of Beatles' music," he told Meehan. "It had a profound effect on both of us. I was playing all this musicians's music, not really getting off on it. Then I heard a James Brown record and it floored me."
Despite the subsequent Tomorrow Never Knows album being very much a Marcus-Nock project, when the album appeared it came out under Marcus' name (and his photo on the cover) and none of the musicians were credited.
No one seems quite sure why that was, but it was – then and even now -- a very different album.
It was jazz which rocked before jazz-rock/fusion became de rigueur.
The six tracks recorded are not without their shortcomings.
There's not a lot you can do with Donovan's melodically inane Mellow Yellow (Sunshine Superman might have been a better and more misty choice) and they play a straight bat to it for a while with Nock's piano adding weirdly off-kilter raindrops and shards of notes before Coryell enters on electric guitar and Marcus overdubbed weird free form shapes all over it for the final squall of its four minutes.
It was an unworthy vehicle which could probably go nowhere other than into this chaos.
Listen People – written by Graham Gouldman and a minor hit for Herman's Hermits – seems an unequally weak choice and it sounds little more than a piece of LA jazz-lite on stations with names like Cool Breeze FM. But at least they keep it well below the three minute mark and Marcus' soprano is clean and warm.
However the Byrds' Eight Miles High – with a melodic line which David Crosby copped from a Coltrane solo – makes rather more sense although Marcus, despite his high energy approach and post-bop attack is the least of it, especially when Coryell's brutal guitar starts searing through the undercurrent.
It's not great, but is way better than Golden Earring's 19 minute take on it the following year.
The two standouts are both by John Lennon: the title track and Rain, coincidentally both based on drones and which let Coryell really unleash.
They are well worth hearing. They even do the backward part at the end of Rain, very effectively.
The final track is odd but interesting for a different reason.
Written by Gary Burton, Half a Heart has an instantly familiar saxophone line, a minor variant of which would be the anchor and most memorable aspect of Gerry Rafferty's massive hit Baker Street some years later.
So this is an album with an unusual provenance and in some ways ahead – albeit only briefly – of the jazz-rock fusion of the Seventies.
On release the album received mixed reviews: Meehan quotes Downbeat's review saying it was "the most interesting development in American music in a long time, we are beginning to have pop-influenced jazz", other were less forgiving and considered it fine jazz players slumming it.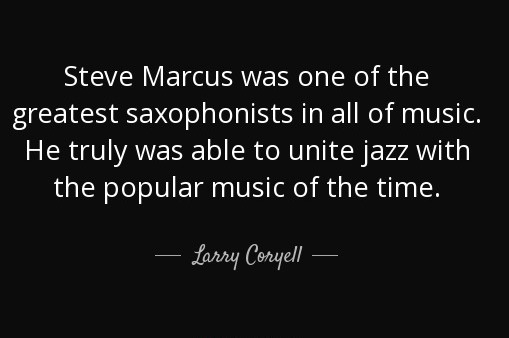 It didn't stop Steve Marcus from further explorations of the contemporary pop and rock canon on albums like Count's Blues (Scarborough Fair, Back Street Girl) and The Lord's Prayer (Hey Jude, Just Like Tom Thumbs Blues, Wild Thing, and with Herbie Hancock in for Nock).
The musicians all went their own ways into careers of varying success and musical directions away from, or deeper into, jazz-rock.
But Tomorrow Never Knows – especially the 11 minute title track with Nock on fine form – is an album which exists as a rather large footnote, if not a couple of decent paragraphs, in any history of late Sixties/early Seventies jazz-rock.
You can hear the whole album at Spotify here.