Graham Reid | | 1 min read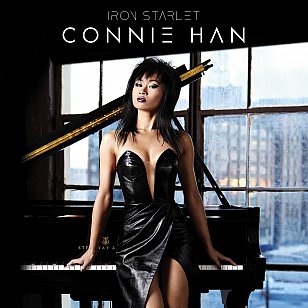 Sometimes you just have to put aside preconceptions about how an artist looks – Alice Cooper, Tiny Tim, Frank Zappa from days of yore – and just head straight to the music.
So it is with glamorous if not stunning jazz pianist Connie Han from LA who comes with all the disadvantages of being sultry, sexualised and seductive on this album cover (as she was on its predecessor Crime Zone).
Immediately she will probably not be taken too seriously in some jazz circles, but head straight to the music and here is a clearly gifted, restrained player straight out of the neo-con school of the Eighties.
She cites the tradition (Tyner, Corea, Hancock) and plays a very straight bat with her band of equally young blades: bassist Ivan Taylor, drummer/producer Bill Wysaske, tenor player Walter Smith III and trumpeter Jeremy Pelt.
At 23, Han has clearly mastered and assimilated the Wynton/Young Lions ethos of about three decades ago and, on piano or Fender Rhodes, she brings some serious, classic jazz chops where she swings inventively (the seven minute-plus Mr Dominator, the closer Dark Chambers which like the title track gives space to her fellows to excel), does a rhythmically dextrous melodic shuffle (For the OG) or sits back into a ballad (Hello to the Wind on Rhodes which leans more towards gentle fusion, and the lovely Detour Ahead).
Her companions here are similarly steeped in this sophisticated and polished style so if some recent jazz has been a bit too challenging, European or edgy then Iron Starlet will appeal to those who fondly recall the young Marsalis brothers, trumpeters Wallace Roney and Roy Hargrove, pianist Marcus Roberts and others.
Here is your straight-ahead, college-educated jazz album.
.
You can hear this album on Spotify here