Graham Reid | | 1 min read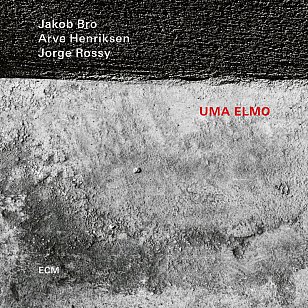 Members of this trio – Danish guitarist Jakob Bro, trumpeter Arve Henriksen from Norway and Spanish drummer Jorge Rossy – have appeared at Elsewhere in the past, but never together: Bro played with
the late Tomasz Stanko
on
Dark Eyes
, Henriksen we heard way back when we wrote about
the Rune Grammofone label
out of Norway and Rossy – a longtime member of pianist Brad Mehldau's group – when he appeared with
Steve Swallow
.
This is their first album together and most of these slow and considered pieces – all by Bro – have a reflective quality, notable in the romantic To Stanko and Music for Black Pigeons for the late Lee Konitz, who died at 92 last year, probably, I'm guessing, while this trio was coming together.
As a guitarist Bro is distinguished more by his subtle presence and warmth than any particular stylistic signature, he shapes the space and sound through delicate and rounded tones or soft chords.
Henriksen goes for long, held notes which are equally subtle (we mentioned Jon Hassell as a reference point many years ago but here he has very much his own autograph) and drummer Rossy leaves considerable space between his emphatic interpolations or soft washes with brushes.
Pieces like Beautiful Day and Morning Song lives up to their titles by Henriksen evoking a kind of pastoral languor (over the ethereal sound design of guitar texture), the more sinewy, assertive and fragmented Housework also befits its title. Morning Song gets a very interesting variation right at the end also, relocating it to somewhere in Northern India.
Sedate, thoughtful, unhurried and often spare improvisations which come off like pastel miniatures of quiet reveries.
.
You can hear this album on Spotify here