Graham Reid | | 2 min read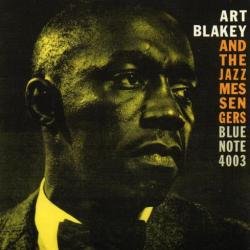 One of the greatest of the late Fifties swinging, hard bop albums on the Blue Note label, this album – like the self-titled album The Beatles, known as The White Album, of a decade later – didn't actually have a title.
But it became known immediately as Moanin' after pianist Bobby Timmons' arresting, memorable nine minute-plus opening track which put solid funk into jazz.
The story goes that the track Moanin' – which was released a a single split over two sides of the 45 – might not have been recorded at all but tenor player Benny Golson insisted the pianist finish off the little blues piece he would sometimes play at gigs between tunes.
Recorded at Rudy Van Gelder's first "living room" studio in New Jersey, this has all the sound and look of a classic Blue Note album.
Yet the photographer credited isn't Francis Wolff who did so many classic jazz/Blue Note images but it is by Buck Heoffler (in the mood and manner of Wolff) and there is no designer credited although it looks like the work of Reid Miles.
The youth of the players is extraordinary given the confidence and maturity in the playing: trumpeter Lee Morgan was just 20 and Timmons 22, which made Golson (29) and bassist Jymie Merritt (32) almost senior citizens.
Even leader Art Blakey on drums who had been around for two decades by this point was still only 39.
But that blend of youth and experience, and great tunes like Along Came Betty and the stridently energetic Blues March, make for a classic jazz album.
Golson did only this one American recording with the Messengers but he wrote Blues March and Along Came Betty as well as Are You Real and, surprisingly, The Thunder Drum Suite in which you might have expected Blakey to have had a guiding hand, especially as he owns it's vibrant and hefty sound.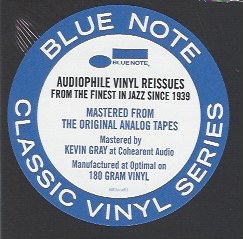 But with Morgan as his foil, Golson was the real frontline star here on an album where the tunes were uniformly strong and the musicians interlocked with consummate ease.
The swinging take on the Mercer-Arlen tune Come Rain or Come Shine at the end rounded out a record which confirmed that Art Blakey's Jazz Messengers – which had recorded with Horace Silver and Thelonious Monk previously in other iterations – was one of the great bands.
And here they had the material to prove it.
Richard Cook described the composition Moanin' as "the kind of melodic tattoo which is, once heard, never forgotten . . . it created a Messenger showpiece which stayed with the band for the rest of its days".
And as Robert Wyatt observed, "What miracle fuel propelled this magnificent little band? Art Blakey's rock solid backbeat, that's what.
"Fuck 'jazz-rock', this is the real thing".
.
Moanin' now reappears as part of Blue Note Classic Vinyl Reissue Series (alongside Horace Silver's Song for My Father, Cannonball Addlerley's Somethin' Else, Wayne Shorter's Speak No Evil and Joe Henderson's Page One, with more to come).
.
For more on Blue Note artists old and new -- and which includes articles on the label's history, artwork and some of the vinyl reissue albums look here.
.

Albums in this Blue Note Classic Vinyl Series of reissues are available in New Zealand through Southbound Records here. Moanin' which is released on April 9 can be pre-ordered