Graham Reid | | 1 min read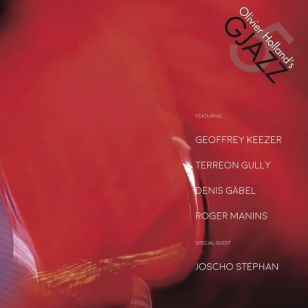 The provenance of this shape-shifting and often ultra-cool post-bop double album is interesting of itself.
German-born and internationally acclaimed bassist/composer Olivier Holland is in the very successful jazz department in the School of Music at the University of Auckland where one of the featured saxophonists here, Roger Manins, also teaches. (Holland and Manins are in the group Dog, among other projects).
But these sessions were recorded in Germany in 2018 when Holland called in some of his favourite players for a dozen of his original pieces.
Although they are hardly household names in this country, the talents of keyboard player Geoffrey Keezer (USA, Art Farmer, Pat Metheny and many others on his CV), drummer Terreon Gully (USA, Christian McBride's band), German tenor player Denis Gaebel and guitarist Joscho Stephan (Germany, only on three tracks unfortunately) are evident right from the swinging funk of the opener $10 Per Rat which morphs between Weather Report and the coolness of Seventies TV soundtracks and classy fusion (Bob James).
It's quite an opening statement which leaves doors wide open they will soon enough explore.
The naggingly enjoyable Morse Code bounces off a code-like pattern from keyboard with Holland's slippery acoustic bass and the keys creating an increasingly swirling pattern before the breakdown lets Keezer take centre-stage in an urgent, multi-tracked snakes'n'ladders solo.
Bad Tuesday is a tight four-minute slice of quizzically surging and probably spontaneous jazz-pop mood swings, and the final piece $10 Per Fly – with Stephan's fluid and exciting guitar part – flips the opener to create a neat circularity to the album.
It is not all quite frantic and funky: For Heidi is a lovely slow ballad which plays out like a jazz tone-poem with Holland's sometimes quietly busy bass in the backdrop and drummer Gully dropping in deep punctuations which ground the keyboard flights; Venus Fly Trap dims the lights also, and the supple Tanktified written by Gully pulls together Seventies Stevie Wonder, Zawinul and the mood of humid, late night and ineffably hip Miami.
Holland is a generous composer who allows for the most democratic of opportunities for these players, notably Keezer, and there's a lot to delve into here – more than 90 minutes.
To crib a phrase favoured by Wynton Marsalis, GJAZZ 5 contains a lot of "musical information".
.
You can buy this and other Olivier Holland albums at the TimeZone website, or hear this album on Spotify here.