Graham Reid | | <1 min read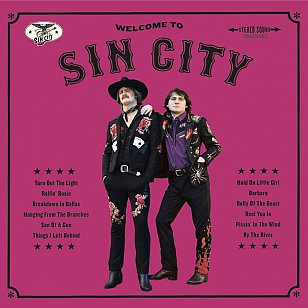 If Orville Peck takes his country music seriously, locals Sin City casually weld classic American stadium rock, finger-snap Mink DeVille (Hold On Little Girl), Jersey Shore rock'n'soul (Turn Out the Light) and more on this debut with telling song titles: Hanging From the Branches Above (a dust-blown hanged-man narrative); Belly of the Beast (rockabilly); Pissin' in the Wind and Bandit of Love (the latter with a false start and hollers).
Things I Left Behind could be a Gram Parsons-Keith Richards' throwaway rehearsal from the Stones' Exile period.
Produced by Delaney Davidson, Sin City revolve around multi-instrumentalists Nick Armstrong and Jack Beesley, with guitarist John Segovia, drummer Alistair Deverick, Dave Khan (fiddle) and Davidson (guitars, mandolin) among the players.
Loose-limbed swagger, braggadocio, ramshackle country rock'n'roll, barroom ballads and country cliches mined for knowing humour.
Doubtless raucously memorable live.
.
You can hear and buy this album at bandcamp here.