Graham Reid | | 1 min read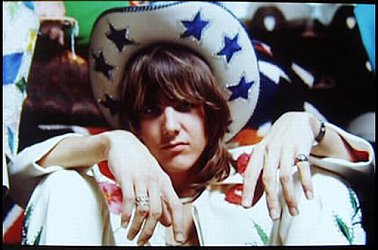 Few Rolling Stones songs have had such an interesting history -- right up to Susan Boyle's recent interpretation -- as this one.
Keith Richards has always claimed the title was his; Mick Jagger insists the song came from the first words Marianne Faithfull said when she came arround from a failed suicide attempt in '69: "Wild horses wouldn't drag me away from you".
The Stones recorded their version in Muscle Shoals Studio in Alabama in December '69 (there is footage of this in their Altamont film Gimme Shelter) but realised that being a country song it needed some appropriate embellishment. They tried electric slide but that didn't work so Richards passed the tape to his friend Gram Parson (formerly of the Byrds, by this time helming the Flying Burrito Brothers in their country-rock direction).
The idea was that Burrito Sneaaky Pete Kleinow would add pedal steel to it.
Parsons -- infatuated by the Stones to the point of infiltrating his way into the band: "He was like a groupie," said Burritos roadie Jim Seiter -- asked if the Burritos could cover it. Which they did for their second album Burrito Deluxe, with piano player Leon Russell in on the session.
It was the finest track on an album which was nowhere near as strong as their debut The Gilded Palace of Sin, and Parson's increasing gravitation to the Stones might have been part of the reason. (Watch his Jagger dance moves in the Deluxe clip below)
He got the Burritos onto the bill for Altamont and then hung out with Richards during the making of Exile on Main Street. Interestingly, despite his knowledge of country music which he imparted to Richards and is all over Exile, Parsons isn't seen in the recent doco Stones in Exile. It is as if he has been written out of the picture.
Not long after, in Spetember '73 after some fine solo albums, Parsons wrote himself out completely when he ODed in a motel room in Joshua Tree.
However Parsons' influence on rock -- through steering the Byrds to country music on Sweetheart of the Rodeo, and then Keith Richards, not to mention his solo albums which also launched the career of Emmylou Harris -- was profound.
And in Wild Horses -- in which he sounds like a man beyond pain or pleasure anymore -- he delivered a singular version of song which has been attempted by many (Faithfull included) who have mostly come up well short.
For more oddities, one-offs or songs with a backstory see From the Vaults.