Graham Reid | | 1 min read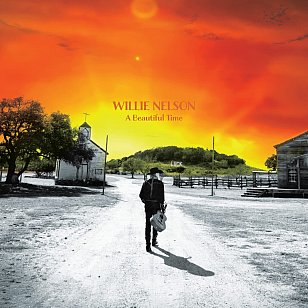 While surprised that Paul McCartney – 80 next month – and septuagenarians Jagger'n'Richards are still touring, it's worth remembering Willie Nelson was writing hits when the Beatles were a bar band in Hamburg and the Stones hadn't formed.
Nelson – now 89 – is still on the road despite being unwell and has recorded 14 studio albums in the past decade. McCartney delivered three and the Stones, just one.
Admittedly Nelson – like Bob Dylan – has done a number of recordings of covers (Gershwin, Sinatra, Ray Price) but you can't deny the man's work ethic.
And he found time to record with Tami Neilson.
A Beautiful Time – his 72nd studio album – sounds like a country-framed, thoughtful farewell letter reflecting on a long life.
On Dusty Bottles he sings "there's something to be said for getting older, dusty bottles pour a finer glass of wine"; Leave You With A Smile is heartbreaking in its honest simplicity; I Don't Go Funerals mentions those he'll meet in the afterlife: Johnny Cash, Waylon, Patsy Cline among them
"I don't go to funerals and I won't be at mine," he sings. "I'll be somewhere looking at loved ones left behind" before concluding it's been a good life.
Here too are behind-the-beat Willie treatments of Leonard Cohen's Tower of Song ("my friends are gone and my hair is grey") and Lennon-McCartney's With a Little Help From My Friends.
And his distinctive, superb guitar playing alongside melancholy pedal steel.
On the hushed Energy Follows Thought he offers hard-won philosophy: "Be careful what you ask for, make sure it's really what you want, because your mind is made for thinking, and energy follows thought".
And on the title track: "If I ever get old, I'll still love the road . . . when the last song's been played I'll look back and say I sure had a beautiful time".
It's been a long road and Willie Nelson seems comfortable accepting his remarkable journey is coming to an end and he walks into the sunset.
.
You can hear A Beautiful Time at Spotify here.