Graham Reid | | 3 min read
From time to time Elsewhere will single out a recent release we recommend on vinyl, like this reissue which comes in a gatefold sleeve as a double album with an extra record of demos.
Check out Elsewhere's other Recommended Record picks . . .
.
Had it not been for Chris Bourke's thorough 1997 biography of Crowded House, Something So Strong, most people would not have been aware of the fraught background to the band's '91 album Woodface.
Early rejection of Neil Finn's material by their record company, anger and arguments, ultimatums, back to the writing . . .
At the same time however Neil was writing with older brother Tim whose solo career hadn't been as successful as expected or as he deserved.
Neil living in Los Angeles found solace in Tim's new studio at his home in Melbourne and they polished a bunch of songs including Weather With You, It's Only Natural, There Goes God, Four Seasons in One Day and Chocolate Cake.
Over time it was decided these songs could be transported to the Crowdies album rather than for a Finn brothers album, and as a consequence Tim joined the band for a brief and increasingly unhappy period.
When Crowded House finished touring their subsequent Together Alone album and returned to New Zealand the brothers came together for writing and recording sessions where the pressure was off.
"There's enough empathy between us that something will happen," said Neil. "We have a chat for a while, talk about a book one of us has read and let ourselves drift off together.
"We weren't labouring on structures, and we only had a month, so there wasn't time to go and sit by the beach and think about the last two lines."
The happy result was the Finn album in '95, originally as by Finn but changed to The Finn Brothers when threatened with a lawsuit by a British band with a prior claim on "Finn".
A quiet showcase of their collective musicianship – all instruments played by them aside from bass by Dave Dobbyn on Kiss the Road of Rarotonga – the Finn album bore little relation to anything either brother was working on at the time.
There is an ease about many of the songs which don't strain to produce archetypal Neil melodies (although glorious passages peep through) or have the anxiety which often infected Tim's work.
Finn was an album by definition freed of any commercial pressures and sounded the better for it.
Echoes of late-period Split Enz cropped up in the stabbing pop of Eyes of the World and the first single Suffer Never has a weightless, psychedelic quality.
"Hazy, sleepwalking dislocation: wildly distorting bass and cymbals, and the Finns sending their voices heavenly and scat-wild like feral choirboys," wrote one reviewer of Suffer Never.
The Times' Caitlin Moran said "the album is bizarrely fractured [with] Astral Weeks-like drifts, underwater lullabies and melodies nicked from the Walkmans of the gods".
Yes, the album is that good and went to 15 on the British charts.
But it is also in the details: the rippling piano in Where is My Soul; Tim hammering the drums on the punkily reductive rock of Kiss the Road in Rarotonga; the unforced elegance of the simple piano part on Last Day of June . . .
Neil had previously extended his sonic palette on Dobbyn's Twist album and some of that sneaks in here by happy osmosis.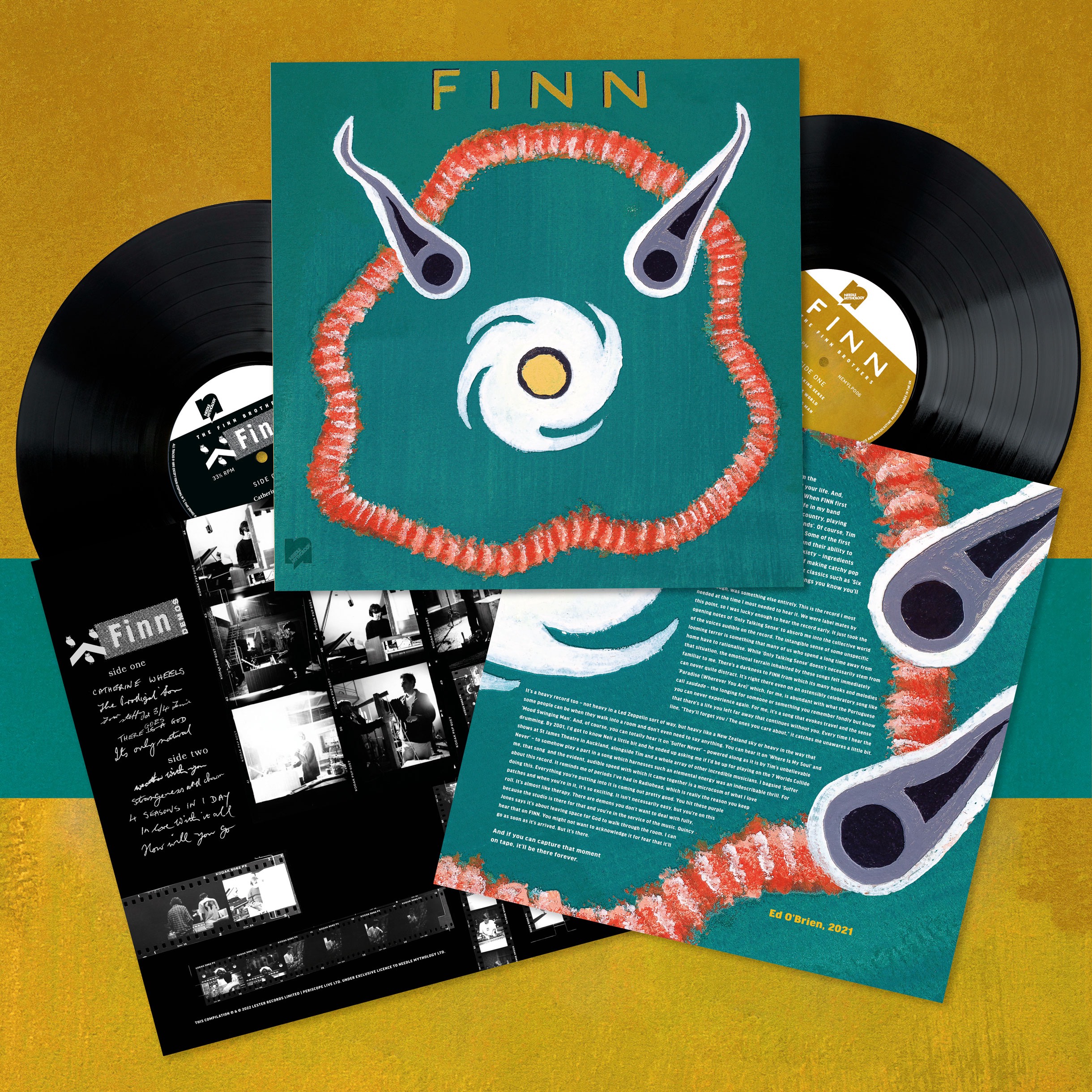 More than a quarter of a century on Finn stands a rediscovery . . . possible now as it has been reissued on vinyl with an extra record of demos of Woodface's Weather With You, Four Seasons in One Day, There Goes God and It's Only Natural (which were on the out-of-print expanded Woodface double CD reissue) as well a previously unreleased Four Stepping in ¾ Time.
Radiohead's Ed O'Brien writes the eloquent liner notes about "the record I most needed at the time I most needed to hear it", noting that Quincy Jones says of writing is about leaving space for God to walk through the room: "I can hear that on Finn. You might not want to acknowledge it for fear that it'll go as soon as it's arrived. But it's there".
As good as the album remains, the extra record with those Woodface demos and In Love With It All and Strangeness And Charm which were revisited for Tim's Before After (two years before Finn) is also a collection of unpolished gems.
It opens with the demo of Catherine Wheels (on Crowded House's Together Alone) and Prodigal Son (which became the b-side of Suffer Never in the UK).
Beneath the brothers' harmonies there is a discernible drone-pop undercurrent to Prodigal Son and the unusual Four Stepping in ¾ Time, It's Only Natural is handclap pop . . .
Beatle comparisons have always dogged Neil Finn but this double set is, at times, located somewhere between the confident experimentation of Revolver and the casual atmosphere of The White Album, especially the demo sessions for the latter.
But with Tim's vocals, the diverse shapes of these songs and how extraordinary their writing was together as it appeared on Woodface you know you are eavesdropping on a moment when inspiration arrives like a mysterious whisper in the night.
.
The Finn Brothers' double vinyl edition of Finn is available through JB Hi-Fi here.