Graham Reid | | <1 min read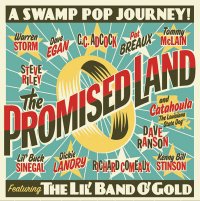 "Supergroup" isn't a word you hear bandied about in the self-effacing world of Cajun music/swamp rock/zydeco circles but this outfit fits that description and on this, their second album, they mine that soulful Southern sound which Little Feat, Beausoleil and others have found so profitable and enjoyable.
So here are accordion (Steve Riley), pedal steel (Richard Comeaux), saxes (Pat Breaux and Dickie Landry), lots of guitars and various vocalist (Riley, Kenny Bill Stinson, Tommy McLain) aching through the late Bobby Charles' bluesy I Don't Wanna Know, rockin' the joint or offering up dance party for those who can two-step.
Titles say so much: Teardrops, Dreamer, Runaway's Life, Faster and faster, Hold on Tight, Memeories, Evangaline Rock, The Last Hayride . . .
And it closes with Allen Toussaint's So Long.
Their fans and collaborators have included Bob Dylan, Nick Lowe, John Hiatt, Clifton Chenier . . . This is the soundtrack to an acclaimed doco about Cajun music and the swamp pop these guys make.
One for those with a Louisiana spirit inside -- and this goes well with this recipe!