Graham Reid | | 1 min read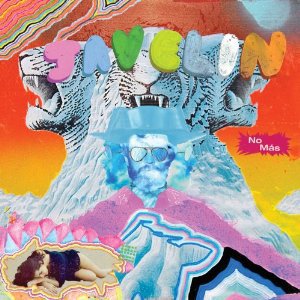 After internet chatter last year about how cool, kitschy and carefree this now Brooklyn-based duo of George Langford and Tom Van Buskirk (and friends) were for their loose borrowings from all parts of pop history (cheap Farfisa pop, reductive disco, New Wave bubblegum) on their widely circulated demos (Jamz n Jemz), you hoped they would step up on their debut album and deliver something as enjoyable, if more lo-fi/lowkey as the Mika or MGMT debuts. Even something as mediocre as the most recent Hot Chip album would be interesting.

But No Mas is as much a shapeless collage as their cover art: their bedroom electro-pop (On It On It, We Ah Wi, C Town) is weak; they think the Chipmunks provided relevant source material (the speed-up voices on Oh! Centra); and pulling in various instruments doesn't add much to wafer-thin ideas.

Better comes when they stab at straight-ahead lounge-pop (Tell Me What Will It Be? with its irritatingly enjoyable keyboards, Shadow Heart), but mostly this is for Hello Kitty kids who prefer cute to substance, and arrested adolescence to sitting at the table with grown-ups.

Langford is on record as saying the minute he starts on one idea he gets distracted and wants to work on another. Here's evidence he should take the medication because, fun though musical ADHD might be, it doesn't translate to a CD.