Graham Reid | | 1 min read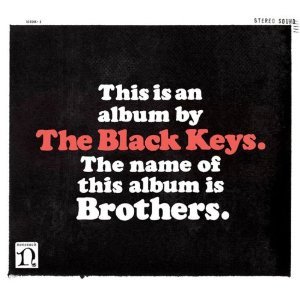 Albums are usually far too long these days, and this is no exception -- but just when you think you might lose interest here the Keys pull out another angle: around the midpoint there are some superbly dark and soulful blues (Ten Cent Pistol, Sinister Kid) which sound steeped in Howlin' Wolf/Muddy Waters, then a new classic on The Go Getter (a moody barroom creeper which Etta James should gender-flip and cover) before they bend into rural blues of the kind on the Fat Possum label.
Many of these 15 songs (all but one are originals) sound like they have been discovered on the b-side of an old Chess or Arhoolie single, yet -- like Jack White -- these guys are smart enough to keep an ear to the potential of a pop hook or classic chord progression. They also deliver a very cool and soulful version of Jerry Butler's Never Gonna Give You Up which slips in seamlessly before their own exceptional These Days right at the end. And that makes this an album worth sticking around for.
I'm on record as not rating the early Black Keys albums at all until about Magic Potion then Attack and Release (see here) but it has all been up and impressive since then -- even the rock-blues/rap collaborations on Blakroc of earlier this year.
With lyrics that refer to the pains and pleasures of life (sometimes with a metaphysical or spiritual bent), imagery drawn from the deep well of soul and blues, and sparse but effectively simple arrangements, this is quite exceptional.
And Dan Auerbach's vocals just keep getting more affecting, flexible and soulful.
A keeper.