Graham Reid | | 2 min read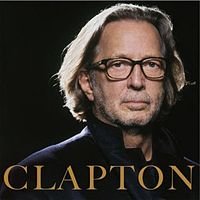 It's fair to say Eric Clapton at 20, while playing with John Mayall's Blues Breakers, never gave much thought to a "career". Yet with this new album he can reflect on more than 40 years in the game, of highs and lows, successes and mis-steps (most of the 80s).

Inevitably Clapton at 65 doesn't have the fire which propelled the late 60s power-trio Cream or gave his desperate love song Layla the edge of aching need.

On this album he actually sings about sitting in a rocking chair, and there are two songs with that master of backporch mellow J.J. Cale, a man who often sounds like he's just about to nod off.

Elsewhere Clapton covers songs from the 30s (among them Irving Berlin's standard How Deep is the Ocean) and lets guitarists Derek Trucks and Doyle Bramhall II from his touring band take over.

All which might make this sound like yet another disappointment from the man once called "God".

But the reverse is true: there's an emotional warmth, beautifully understated playing, a (mostly) astute choice of material, the guests are sensitive, and Clapton is in excellent voice.

Clapton will not be the album Cream/Blind Faith loyalists might want to hear, but he hasn't been that Clapton for a very long time.

Yet it kicks off with the low blues of Travelin' Alone which rides a wave of broody Hammond organ, a sharp guitar part and Jim Keltner's pin-sharp drumming. A darker blues appears on Walter Jacobs' Can't Hold Out with Kim Wilson on harmonica, there's a funky version of That's No Way to Get Along with Cale (which the Stones reworked as Prodigal Son) and the sole original (a co-write with Bramhall) Run Back which is notable for the feisty guitar work from Clapton, Bramhall and Trucks.

But it is the other material which is the soul of this album: Rocking Chair (the Hoagy Carmichael tune) is as comfortably reflective as it sounds and comes with romantic slide from Trucks; and the Cale tracks (J.J.'s River Runs Deep and Everything Will Be Alright) are masterfully economic but hit winning grooves, the former with pedal steel from Greg Leisz and a discreetly sweeping string section.

On How Deep is the Ocean (with Marsalis and strings) Clapton is poised but emotionally engaging. He sounds entirely at home on standards like this, and Autumn Leaves.

But it isn't just blues and ballads: Milkman is a New Orleans romp with trumpeter Wynton Marsalis and pianists Allen Toussaint and Walt Richmond, and Clapton sounds in rare humour. It ends with the jaunty "here comes the bride, small, fat and wide . . ."

As with most albums it's slightly too long, but taken one track at a time it's hard to imagine what you'd cut (the over-wrought Diamonds Made From Rain perhaps?).

This album feels comfortable. And Clapton deserves that.

Have to say, against the odds, it's also very good – and the mood infectious.