Graham Reid | | 1 min read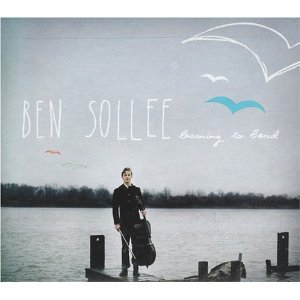 Here's a striking opening couplet on an album: "If you're gonna lead my country and you're gonna say it's free, I'm gonna need a little honesty . . . just a few honest words, it shouldn't be that hard".
That these spare but blunt sentiments are delivered over cello rather than angry guitars make them even more powerful, and when Sollee says he doesn't need handshakes, fancy premieres and so on, those lines "just a few honest words, shouldn't be that hard" take on a plaintive quality.
Sollee is unusual one: not since the late Arthur Russell has a singer-cellist commanded so much attention -- but with his literate lyrics, social activism and soulful voice he is a singer-songwriter who hears arrangements for vibraphone rather than guitars and doesn't shy away from adapting Sam Cooke's A Change is Gonna Come to his own purposes. That's brave.
He also leans towards a kind of Paul Simon-gone-country (the jaunty Bury With Me My Car with Jews harp and fiddle, and which skewers the American obsession with the automobile), and a more serious Simon on the thoughtful Bend ("are you strong enough to bend against the wind" and later a 9/11 reference "history will teach us, we were all on those planes") and Panning for Gold about an encounter with a God broken and disappointed by humankind and all that he made.
It's Not Impossible ("it's a shame you know, but it's ingrained you know, boys don't cry") has a jazzy quality, I Can't reflects on expectations not met (personal and political).
And he can make that cello sound like a jazz bass or an acoustic guitar. It's as at home in socially-conscious folk as it is in Kentucky country (Built For This).
This album came out some time back but seems to have been given a belated Australasian release with two additional tracks, one of them with Jim James of My Morning Jacket.
Better late then never, as they say. And this is far better than most albums you might have heard lately.
Discover this one - lyrics and music -- for yourself. Beautiful.