Graham Reid | | 1 min read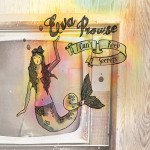 Prowse -- here with her debut album -- has probably crossed more people's paths than they might think: she has toured with Fly My Pretties, opened for Wanda Jackson and appeared on the excellent album Trouble on the Waterfront by her father Chris Prowse.
That is emblematic of her musical dexterity, and the fact she has the Phoenix Foundation's Samuel Flynn Scott producing and playing here, Lee Prebble recording and mixing at his Surgery Studios in Wellington, along with the likes of Rio Hunuki-Heopo of TrinityRoots and other luminaries shows the high regard in which she is held.
And we might also note the sensitive, artistic packaging which comes with design and illustration by a couple of other Prowses.
This is a debut with everything in place and all Prowse has to do is deliver, which she seems to do effortlessly in assured songwriting and vocals which sit in an area between alt.folk and gentle indie.pop-rock coloured by her evocative violin, some keening guitar work and mandolin, saw, piano . . .
Prowse has an easy, almost conversational style to her lyrics where a phrase -- sometimes slightly familiar, sometimes memorably pointed -- becomes a key line or the chorus, and in that refinement she is much like Greg Johnson. It's an art to sound this effortless, and free of artifice.
And when the arrangements shift from alt.pop with a touch of slightly Irish fiddle or wide-open country-style guitar (or moody landscape) this one moves discreetly through styles whle keeping Prowse as the focus. She's smart, funny and acerbic ("read my book on the company, don't like description, I read the story, just let the pictures do the work for me") and the titles alone tell you that much: Hope Remains, In the Agora, She's Bound to Get You, Fashion Vs Function . . .
And the closer, the seven minute Pirie Street, is an ascending, slightly bluesy piece ("I don't think I can trust a handyman, leave him alone with the key to my home") which changes shape and intensity as it goes -- and is enhanced by the disconcerting sound of the saw. It's like a strange circus tune.
This is not just an impressive debut, it is impressive on all counts. And proof you don't have to rush a debut album: better to work for a while, find out what you can do best, and get a decent body of diverse, interesting and literate songs together.
Prowse has done all that, and more, here.