Graham Reid | | 1 min read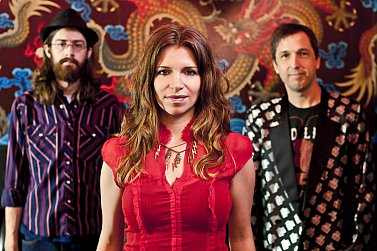 There is a considerable amount I don't know about this outfit from Seattle which is fronted by Alicia Dara. In fact I think I've just told you all I do know.
But there is more to be said: this beguiling nine-song album arrived from the same source as the excellent My Pet Dragon (but is completely different), and Dara's enticingly soft but assured vocals just drag you into these electro-acoustic soundscape songs where electric sitar has a place alongside lap steel guitars and strings, plus Hammond organ and electrobeats (the latter from producer Steve Fisk who worked with Nirvana and the Posies, big ticks for both).
But there's more going on here than just gentle seduction into intelligent music which at times drifts towards meaningful alt.country (their song Nashville is a long way from the "Nashville sound" however).
Dara writes gorgeous songs which also sound malleable: you could imagine artists as diverse as Norah Jones, Joni Mitchell, Florence (of the Machine), Antony (of the Johnsons) and Rosanne Cash (on Lightning Seed) could interpret and turn into some of their own.
And Freezerburn has that kind of edgy, percussive quality which distinguishes the best, taut alt.country -- with a feminine twist in the lyric about lust . . . but ennui in a relationship. It oozes thwarted sexuality.
Burning Hands is just plain slinky, and Error Message which follows pares back to acoustic guitar, folk elegance and emotional poise . . . but has a sting in the lyric.
So Dara not only writes flexible, interesting and musically engrossing songs, but delivers them in her own way. She sings from within the lyrics while also letting her voice slip easily into the musical setting, sometimes as another instrument.
So no, I don't really know much at all about The Volcano Diary -- but I certainly like what I hear.
Alicia Dara responded to the Famous Elsewhere Questionnaire here. And you can hear more of The Volcano Diary here.