Graham Reid | | 1 min read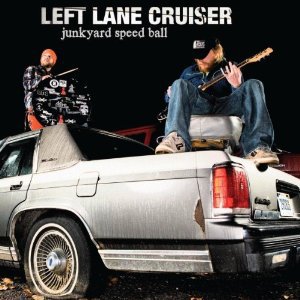 Judge a band by its cover? Sure, why not?
Here the raucous blues-rock duo of guitarist Freddy J IV and drummer Brenn "Sauasage Paw" Beck out of Indiana are almost horizontal in a bathroom sharing a bottle of Jameson whisky on the inner sleeve of the cover, and the album features tracks with the titles Lost My Mind, 24HR, Weed Vodka, Cracker Barrel, Pig Farm, Road Again and At The Denny's.
Not here for a long time but here for a good time?
Well, not quite because -- like the young Black Keys and White Stripes -- they deliver a sonic post-punk punch to the bread-basket with a touch of early George Thorogood/Sixties Chicago blues and slewing slide playing thrown in for good measure. They know their blues and sound closer to some of the Fat Possum artists (T-Model Ford -- who is now on the same label -- and R.L. Burnside) and mad characters like the great untutored eccentric Hasil Adkins than any of their peers.
There's some endless boogie/Endless Boogie here too, but mostly this is taut rock-blues from a guy who sounds like he grew up drinking turpentine wine and comes at you through a distorted speaker. With a keyboard player on five tracks this also has some texture and breadth. And they toss in alittle country-style blues in places.
So this broadcasts on a bad radio from a juke-joint in Mississippi and it's hard to resist that urge to turn it up.
Like the sound of this noise? Then check out this guy, and this one.