Graham Reid | | 1 min read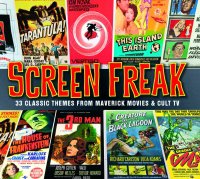 Elsewhere has previously posted the Late Night Tales album of movie themes At the Movies, but the segues between the pieces was jarring and the album -- mostly of snippets from movie themes -- didn't make much sense.
Purist therefore will prefer this one, 39 distinctive themes or signature pieces from classic horror and thriller films (and B-grade classics like Son of Dracula and The Creature Walks Among Us) which might just have you on the edge of your seat.
Some great composers here: Bernard Herrmann (The Day The Earth Stood Still, North by Northwest, Vertigo), Duke Ellington (Anatomy of a Murder), Miklos Rozsa (The World The Flesh and the Devil), Henry Mancini (Creature From the Black Lagoon, the jazz-noir Peter Gunn theme, This Island Earth), Elmer Bernstein (Johnny Staccato) . . .
And there is that sginature tune by Anton Karas from The Third Man (The Harry Lime Theme, with some of the opening voice-over and dialogue), the themes to Dragnet and The Naked City, Bebe and Louis Barron's innovative electronic music for Forbidden Planet . . .
These are pieces of music which have imprinted themselves on the memory banks of film lovers for generations.
Obviously one for specialists, but Alan Clayson's liner essay will persuade others of the importance of this memorable music (as opposed to incidental music which dosn't draw attention to itself).
Spooky in places, knuckle-whitening in others. Enjoy the shock of the familiar.
Pity the scary music for Lost Weekend isn't here though. Now that's a real buttock-clencher.
Like the sound of this? Then check this out. And this.