Graham Reid | | 1 min read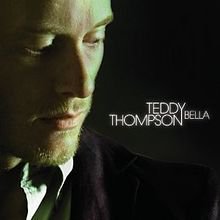 This 35-year old son of famed British folk-rockers Richard and Linda follows his own path. He took his powerful, sensitive voice to excellent originals on his second album Separate Ways in 05, followed it up with an album of country covers Upfront and Down Low (which boasted the stunning sole original in Down Low) then unveiled the exceptional album of mature pop and alt.country A Piece of What You Need three year ago.

For this collection of songs about love – partners and family – he did the whole Brill Building routine, went to an office to write, and kick starts it with a radio-friendly slice of light power pop (Looking For a Girl).

These classic country-tinged pop frameworks – ballads with strings, guitar-driven pop with memorable choruses – perhaps sounds like they've been crafted at a desk but Thompson's clear delivery and the sensitive arrangements remind you many of pop's most memorable songs in the late 50s/early 60s came about this way. And that Thompson is an Everly Brothers fan.

Produced by David Kahne (McCartney), this lacks a killer, sensitive ballad like Down Low (the sentimental Take Care of Yourself come close) or a standout, emotionally abrasive rocker (you wish The Next One was given added grit) – but Thompson's engaging voice is his ace, although you feel he's having to play it here when his hand is a bit weak.
Like the sound of this? Then check out this.