Graham Reid | | 1 min read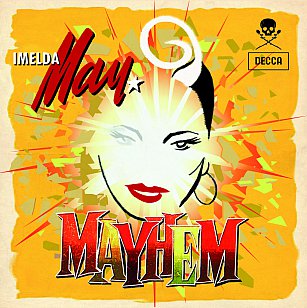 Irish singer Imelda May Higham started her profesional life singing folk, rock'n'roll and rockabilly but has made her way towards saucy, raunchy old-time jazz while losing none of her original passions.
Which is why on the recent Jeff Beck tribute to Les Paul she could weigh in with everything from rockabilly to haunting torch singing, so much so that you could have been mistaken for thinking there were a number of singerson hand - yet they were all her, even the backing vocals which she multi-tracked and pre-recorded for the shows.
This album, her third, with her band and guests in a New Orleans-style horn section (clarinet, trombone, double bass) along with fiddle is a life-affirming afair which roams freely across all those genres and has a tightness tht befits the twanging rockabilly guitar sound as much her jaz manoeuvres.
And she's one smart songwriter who can also pen what sound like standard in these various genres. The bonus track -- a remixed Johnny Got a Boom Boom from her last album -- sounds like the Stray Cats cutting a rug in a New Orleans dancehall. Equally she offers a lamplight ballad Kentish Town Waltz which has a lyric akin to those poetic-realism songs which Shane MacGowan used to pen at his peak.
So there are snappy rockabilly songs here (Let Me Out), rocked up party pieces with NO-styl trumpet (Proud and Humble which has religious lyric and joyous fervor) and straight-up Fifties-framed rock'n'roll with a slightly Cramps/rebel edge (Psycho, Pulling the Rug).
These taut songs all sound like singles in a better radio world (in the UK it has sprung four so far) and Imelda May well on her way to becoming a household name, preferaably in a club near you.
Like the sound of this? Then check out this.