Graham Reid | | 1 min read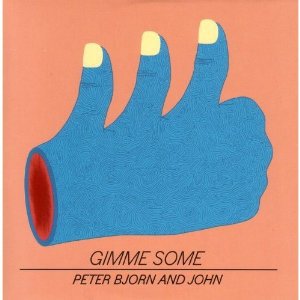 By giving themselves three thumbs up on the cover of this, their sixth album, Sweden's pop-friendly outfit are doubtless hoping for some similar critical consensus for their return to a more power pop sound after the rather more interesting but failed experiment of the darker Living Thing two years ago.
Nothing here will rattle rafters or make anyone rewrite the book of pop, but these are likeable songs with all the elements in the right place: appealingly crisp singing (with that slightly clipped sound which was a hallmark of some Merseybeat singers in he Sixties); nice use of echo on the vocals; harmony parts; natty backbeats; memorable and concise guitar figures; only a few tracks stretching past the three and a half minute mark . . .
So you'd like to say those thumbs are facing the right way for the 38 minutes here . . . but there is sometimes a slightly misplaced New Wave intensity when there could be a pure pop uplift (Cool Off) and despite their best efforts a couple of songs here don't stick (Breaker Breaker, May Seem Macabre).
Songs like Tomorrow Has To Wait and Eyes would have been all over radio had they come out in '66, the early Seventies or the mid Nineties, but we live in times when classy guitar pop of this style isn't as respected as it should be.
That said you can bet some of this (Tomorrow Has to Wait, Lies) must be thrilling in a small club.
My guess though is this was intended to take them out of such places and into bigger venues.
Just the two thumbs I think.
Like the idea of power pop with guitars and choruses? Then check out this.