Graham Reid | | 1 min read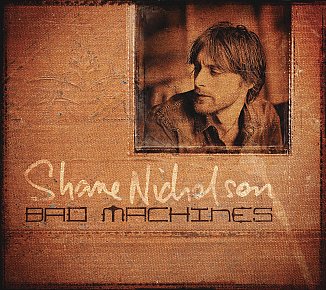 Nicholson is one of the finest of Australia's singers-songwriters with his feet in alt.country and Americana, but he's as comfortable with Dylanesque wordplay in a strange narrative (Blueberry Pie with its "monkey with the golden tooth") as he is delivering emotionally weighted acoustic ballads (Trick Knee Blues).
And as always he gets strong support from a tight band (which includes his father-in-law Bill Chambers on guitars, father of Kasey Chambers) . . . and Paul Kelly comes in for the mysterious and quiet Whistling Cannonballs which is about a woman on the edge of existence and the singer who must look on.
Musically Nicholson covers a lot of territory: The opener here Famous Last Words is a snappy country-rocker in the manner of Buddy Holly, but the gently swinging Jimmie Rodgers Was a Vampire has Bill on lap steel and the ballad The Broken Things is a gentle, simple declaration of love with Kasey on backing vocals.
Fish and Whistle has a light gospel-country feel and Money For Jam ("bullet holes and broken sense, we are only accidents waiting to happen. Bigger the rattle then the bigger the snake") is a brooding, almost monotone rocker with entwining guitars from Bill and Mark Punch.
There's a little of John Prine's refined writing style here too (Hammer and Nail), and these songs are sprinkled with religious imagery, dust and loss, open spaces and small rooms.
Nicholson's previous album with Chambers Rattlin' Bones was in the Best of Elsewhere 2008 list and his last solo outing Familiar Ghosts was equally well received here. No surprise then that this one also comes highly commended to those who like their country a bit alt and a lot smart in the lyrics department.
The boot-stomping closer Music is Dead takes a swipe at the current state of pop ("I don't want to buy what I already got") but concludes "long live the radio".
Like the sound of this? Then check out these guys.
Shane Nicholson has also answered The Famous Elsewhere Questionnaire here.