Graham Reid | | 1 min read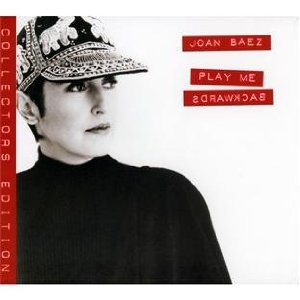 Joan Baez has never had her rediscovery by a new generation, but this reissue of her excellent folk-rock album of ' 92 – with an extra disc of demos including Dylan's early Seven Curses which only appeared on his recent Witmark Demos 1962-64 – is a smart starting place as it found her back in Nashville after a 20 year absence and at the top of her game.
With cracking session musicians, producers Kenny Greenberg (who's done sessions with Rodney Crowell, Etta James and Jo-El Sonnier) and songwriter Wally Wilson, and some fine co-writes and some well-chosen covers, it also ushered in an especially productive decade.

Baez had, for many, come off as a kind of serious but beautiful aunty (largely because of her serious appearance in the Woodstock movie) and the title-track opener suggests she might be that here ("You don't need to play me backwards to get the meaning of my words," she sang at a time when alleged backward masking by metal bands was in the media).
But with classy arrangments and songs which are often reflective (her version of Mary-Chapin Carpenterr's lovely Stones in the Road) and always delivered with comittment, this album stands as a high point in a long career.
As always, there is a religious component (the story of Isaac and Abraham over berenbau where it sounds like a Native American shaker drum) but Baez has a persuasive delivery and the simply delivered Steal Across the Border ("you turn around, the old way is gone, I will steal across the border for you") is a beautiful declaration of love and compassion.
Elsewhere the beats kick in (I'm With You), there is John Stewart's emotionally deep Strange Rivers (which could have come from her acclaimed Diamonds and Rust of '75) and John Hiatt's Through Your Hands given an almost epic U2 treatment over synth and chiming acoustic . . .
Only the earnest The Dream Song with a string quartet doesn't quite stand up.
Otherwise a terrific album from someone who has gone right of the radar of most, other than those writing historical overviews of folk, popular music and, of course, the young Bob Dylan.
For more on Joan Baez this doco is essential. She is also kinda funny. Check this out.