Graham Reid | | 1 min read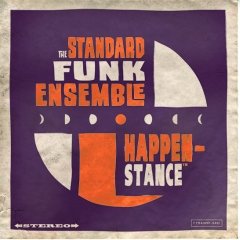 Vocalist Georgia Woods here -- who may have been the prime mover behind this project -- has been an actress and stage performer for a number of years (Gilbert and Sullivan in Australia, member of the Auckland Theatre Company) and performed the highly successful Highlights -- Blondes and Their Songs.
She is something of a trouper too and sings in restaurants, bars and in cabaret.
But for this project she puts on her soul-funk clothes for an interesting collection of songs which neatly (and mostly) sidestep the expected and offer instead Sting's Englishman in New York, Bill Withers' Use Me, Al Green's Let's Stay Together given a smart Latin shuffle, Aretha's Since You've Been Gone, Rainy Night in Georgia and Prince's Purple Rain.
Yes, You Are the Sunshine of My Life is here too and, curiously in this company, My Funny Valentine.
What impresses as much as her sassy or sensitive delivery is the roll call of young New Zealand jazz talent on display, and which is given plenty of room to move: Chris Mason-Battley is the musical arranger for the large rhythm section, Chris Neilson arranged the horns on a few tracks, guitarist Dixon Nacey guests on the Prince song, percussion player Miguel Fuentes is here for three songs . . .
The vocals were produced by Steve Garden (best known for his work for the Rattle and Rattle Jazz imprints) and the album is wrapped in a period-funk cover designed by Mardo El-Noor which is very attractive.
Keyboard player Mark Baynes plays excellent solos or is discreet in support (his organ part on Save Your Love For Me manages to be both) and delivers a fine arrangement for You Are The Sunshine, the horns shine, the rhythm section brings the funk (the bubbling Use Me) and out front Woods can get inside a ballad lyric (Save Your Love, the steamy Evenin' with a subtle echo adding a suggestion of an illicit encounter in a back alley, Funny Valentine which comes with sinuous saxophone).
Not everything works quite so well -- the Aretha comes off more of a show tune than a soul belter, that echo outstays its welcome for the Prince by placing it too close to the original -- but taken all of a piece this is some pretty sprightly and/or sensitive collection, and actually errs more towards the sensual than the soul strut the group's name might suggest.
Like the sound of this? Then check out this.